Part Mind | Part Machine: Merging Design, Engineering & Psychology to transform Branding and User Experience.
Daniel Borg is an experienced graphic designer and digital expert, boasting over 22 years in the industry. With a passion for design thinking and creativity, he founded his business, psyborg®, 17 years ago. Inspired by his wife, a Clinical Psychologist, the name psyborg® plays on psychology, creativity and tech adopting the slogan "part mind, part machine."
Daniel specializes in helping small to medium-sized businesses thrive by combining creative thinking with the latest digital tools. With a solid background in both mechanical engineering and graphic design, Daniel has seen firsthand the evolution of the tech space in Newcastle and adapted to numerous changes in web design, programming languages and the rise of AI.
In his journey, Daniel has embraced an agile mindset, adapting to change and learning new skills to stay ahead in the industry. He attributes his success to "Just in Time Learning," a concept derived from engineering, which emphasizes learning new skills as they become relevant.
A strong believer in understanding human behaviour, Daniel enjoys listening to clinical psychology discussions and explores the symbolism found in ancient narratives to better understand how society functions. This understanding helps him design better user experiences, ensuring his clients' customers are drawn towards their products and services rather than repelled by them.
Daniel believes that identifying the core problem to be solved is key before diving into branding and he is well-versed in guiding clients through every stage of the process. With a focus on clear, simple communication, Daniel's design philosophy is about getting to the point and finding that core idea that connects with the target audience.
Throughout his career, Daniel Borg has consistently adapted to the ever-changing digital landscape. From the early days of HTML and Flash to becoming a proponent of WordPress, Daniel has always been keen on finding the right tool to solve his clients' problems. As a result, he has become known for his ability to unpack and understand their needs, simplifying the process and ultimately delivering effective solutions.
Daniel's strong emphasis on clear communication and human connection has earned him a solid reputation in his field. He is open to taking on a wide range of projects, never getting caught up in the debates between platforms or tools, and always striving to focus on the bigger picture.
His diverse background in industrial engineering, mechanical engineering, and graphic design has given him a unique perspective and skillset, which he has successfully applied in his work over the years. The challenges he faced early on in his career turned out to be invaluable learning experiences that helped shape his future success.
Daniel's dedication to serving his clients in Newcastle and building a strong reputation has taught him the importance of personal branding and credibility. He stresses the need for authenticity and delivering on promises, as well as setting the right expectations from the beginning.
When it comes to developing a brand, Daniel focuses on discovering the "why" behind it and how it solves a problem for customers. This foundation helps him create a name, logo and design that effectively communicate the brand's story. His design philosophy leans toward simplicity, often favouring typography-based solutions that can be tweaked to reflect the brand's unique qualities.
Ultimately, Daniel Borg sees branding as more than just a logo; it encompasses the entire experience and beliefs associated with it. By helping clients build their story through various touchpoints, Daniel ensures that the logo and brand become a reflection of their values and purpose. His ability to combine design, engineering and problem-solving skills has made him a sought-after professional in the industry, consistently delivering outstanding results for his clients.
Daniel Borg continued to grow his graphic design career, fuelled by his dedication to providing authentic experiences for his clients. By running workshops at his Caves Beach studio, he discovered a passion for teaching and connecting with others. His workshops, which often took place one-on-one, provided an invaluable opportunity to build rapport and better understand the clients' perspectives.
His background in mechanical engineering led him to develop customized Excel dashboards for tracking project data, time management and business performance. This approach helped him monitor the progress of multiple projects at once and allowed him to make more informed decisions for his business.
Daniel's focus on staying relevant and active on social media contributed to his success as well. He found that posting consistently not only helped him reach a wider audience but also demonstrated his dedication and work ethic. He adapted to new tools and technologies, such as Slack and Discord, to improve communication and streamline workflows.
Living near the ocean in Caves Beach had a profound impact on Daniel's life philosophy. The vast horizon reminded him of the bigger picture and the importance of not taking life too seriously. This outlook allowed him to navigate the ups and downs of his career with resilience and optimism.
Daniel Borg's journey as a designer and entrepreneur can be followed on his website, psyborg.com.au, as well as on social media platforms under the handle psyborg® or Daniel Borg for LinkedIn. His passion for connecting with clients and providing an authentic experience continues to drive his success in the design world.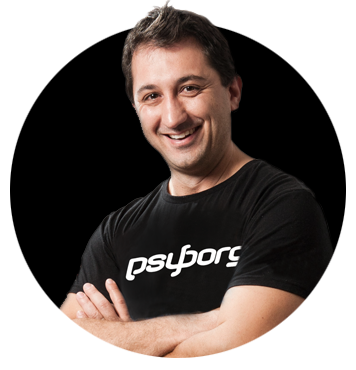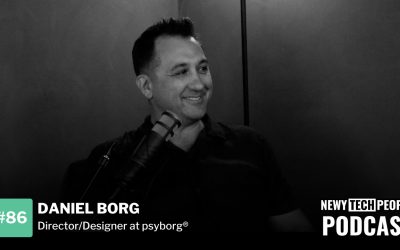 I'm excited to share my recent interview on the Newy Tech People Podcast with you!
read more