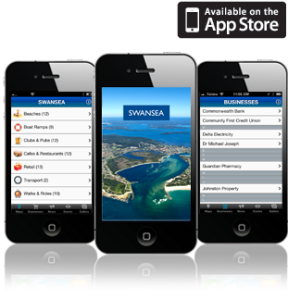 Swansea iPhone App
Our first ever Mobile Phone & Tablet App we designed went live today on the Apple iTunes App Store.
It's called 'Swansea' and it is a Travel & Tourism App that helps users discover Swansea and it's surrounding areas (Swansea is located in NSW, Australia).
The App was commissioned by the Swansea Business Chamber and is used to help promote Chamber Members as well as encourage the growth of Swansea and it's surrounding areas.
We originally designed the Swansea Business Chambers website, so it was a natural fit to extend this to an iPhone & iPad App .
The Swansea App features local beaches, attractions, business directory, news & events relevant to the picturesque surrounds of Swansea.
The core functionality is based around Google Maps where discovered location points are located on a google map featuring business name and contact phone number. Hence the App is intended to assist the local or visitor to learn more about there surroundings in a mobile format.
The Apps functionality feeds from a database connected to the Swansea Business Chamber website, which means that when the website is updated so is the App Data. This is especially important for the locations and contact details for the business directory & the News and Events feeds.
Other App directory inclusions are;
Locations of  Beaches & Boat Ramps
Locations of Clubs & Pubs
Locations of Cafes' & Restaurants
Locations of Retail Outlets
Location of Transport
Locations of Walks & Rides
A Photo Gallery of Attractions
Links to the Business Chamber Website and Facebook page
As this is our first ever App project we have been quite conservative in the scope of the project, however in newer versions and updates to the App we hope to implement more innovative features such as;
Bridge Opening Push Notifications
Beach & Fishing Web Cam Feeds
Adding web site addresses to business balloons located from the Google maps
Swansea weather information
If you've got any other ideas for future improvements, drop us a comment.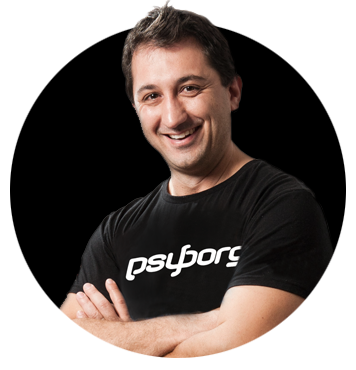 Daniel Borg
Creative Director
psyborg® was founded by Daniel Borg, an Honours Graduate in Design from the University of Newcastle, NSW, Australia. Daniel also has an Associate Diploma in Industrial Engineering and has experience from within the Engineering & Advertising Industries.
Daniel has completed over 2800 design projects consisting of branding, content marketing, digital marketing, illustration, web design, and printed projects since psyborg® was first founded. psyborg® is located in Lake Macquarie, Newcastle but services business Nation wide.
I really do enjoy getting feedback so please let me know your thoughts on this or any of my articles in the comments field or on social media below.
Cheers Daniel