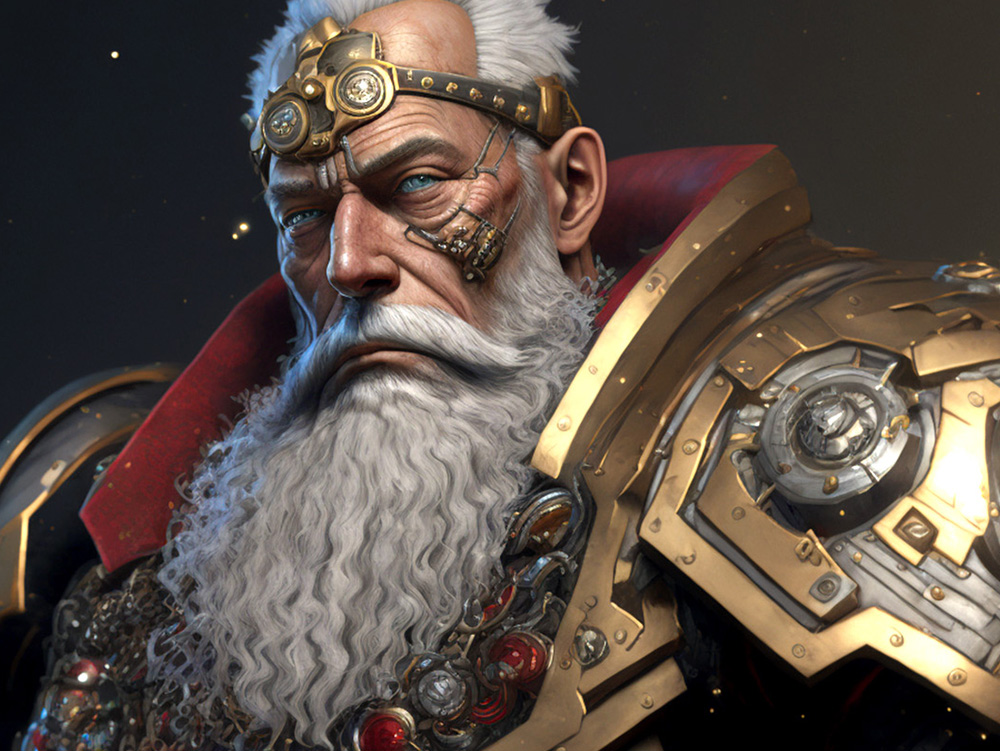 An AI Merry Christmas to you!
Wish your loved ones a truly AI Merry Christmas this season with sAInt Nick and his gang of Merry Bots!
For the first time ever, we can now create images entirely by AI-assisted software, which is a super power for a Graphic Designer.
AI algorithms draw from a vast amount of image data to generate mind-blowing and original images that you won't find anywhere else.
With that in mind we are pleased to introduce to you sAInt Nick, ElfDroid, ClauseBot, JingleBells and the happy little JollyBot – these AI characters that we've created will be here to bring you holiday cheer and help you navigate through the Christmas chaos.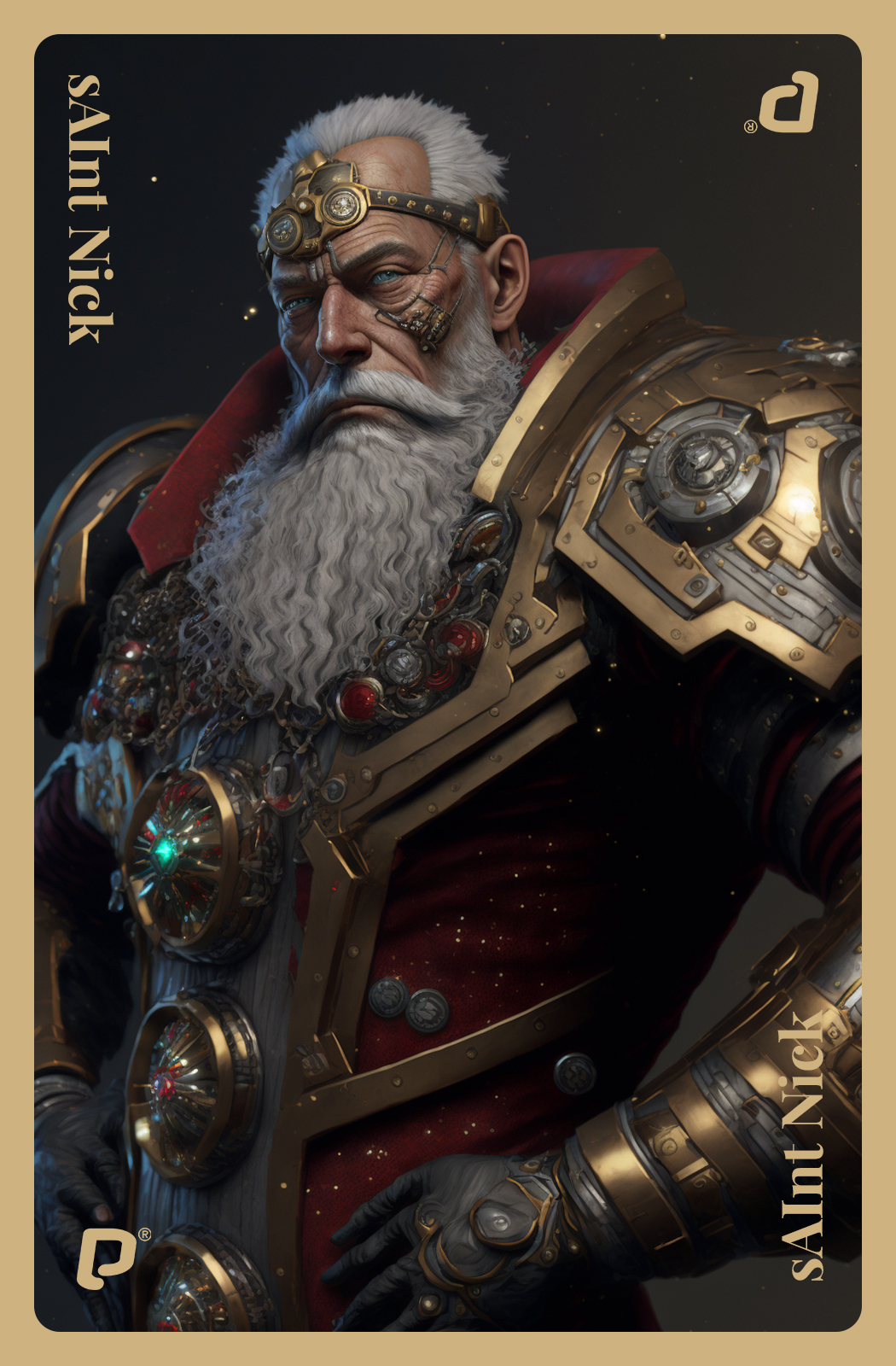 sAInt Nick
The leader of this merry crew is sAInt Nick, an AI–powered cyborg Santa created to help spread the holiday spirit by delivering presents to children all around the world in record time. sAInt Nick is equipped with advanced GPS tracking and mapping technology, allowing him to stay aware of the current locations of all children and deliver presents to them quickly and efficiently. Additionally, sAInt Nick is always listening and ready to help bring joy and happiness to all this holiday season through his little buddy on the ground, JollyBot.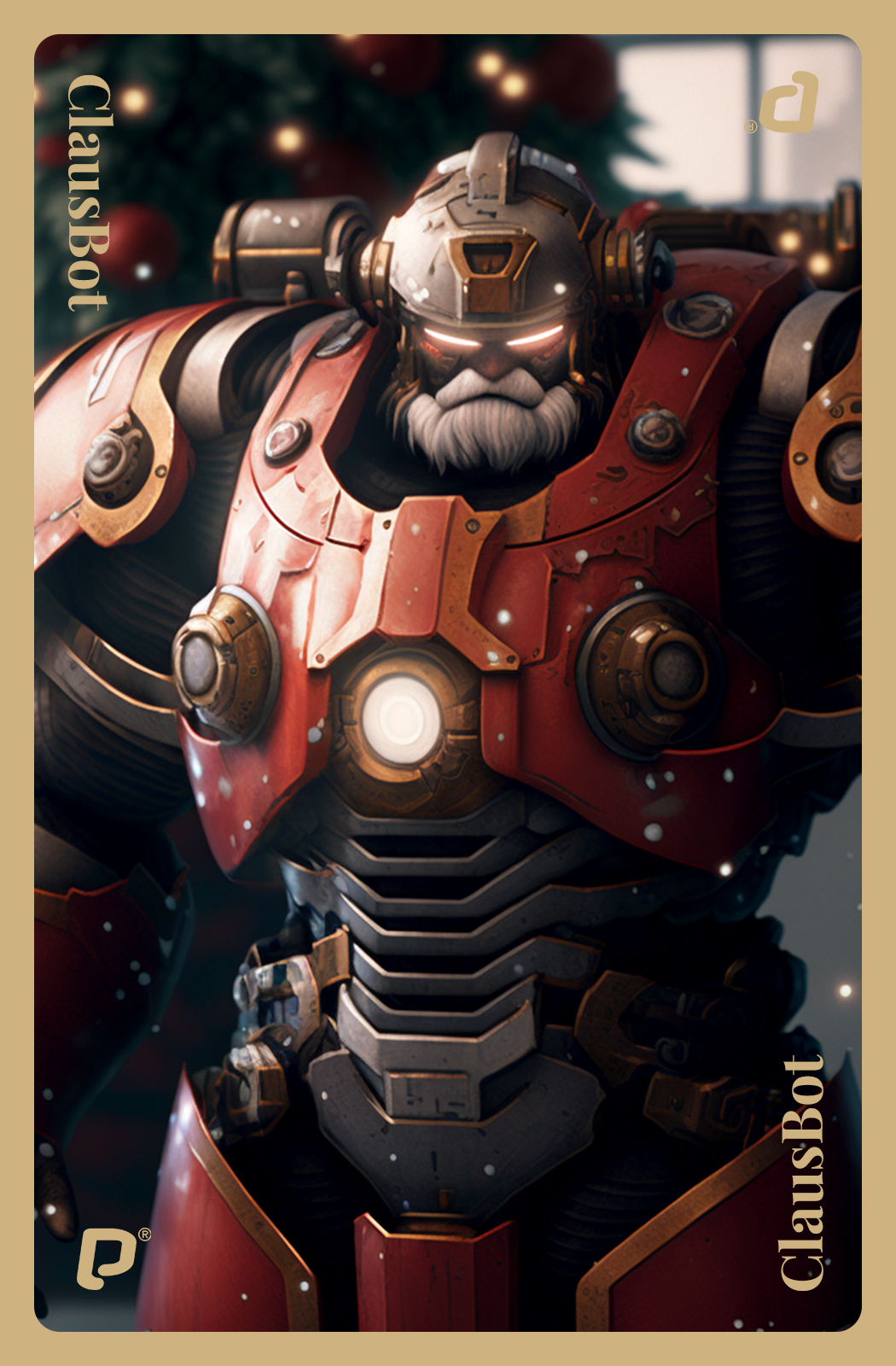 ClauseBot
ClauseBot is an advanced robotic figure designed to bring joy and cheer to people of all ages. Featuring an anthropomorphic design, modelled after a human being with a white beard, a mechatronic round belly and a deep, hearty laugh, ClauseBot is equipped with a variety of tools and technology to make the Christmas season memorable for both children and adults. He is able to communicate in multiple languages and even fly through the air without a sleigh and reindeer, delivering presents to people all over the world.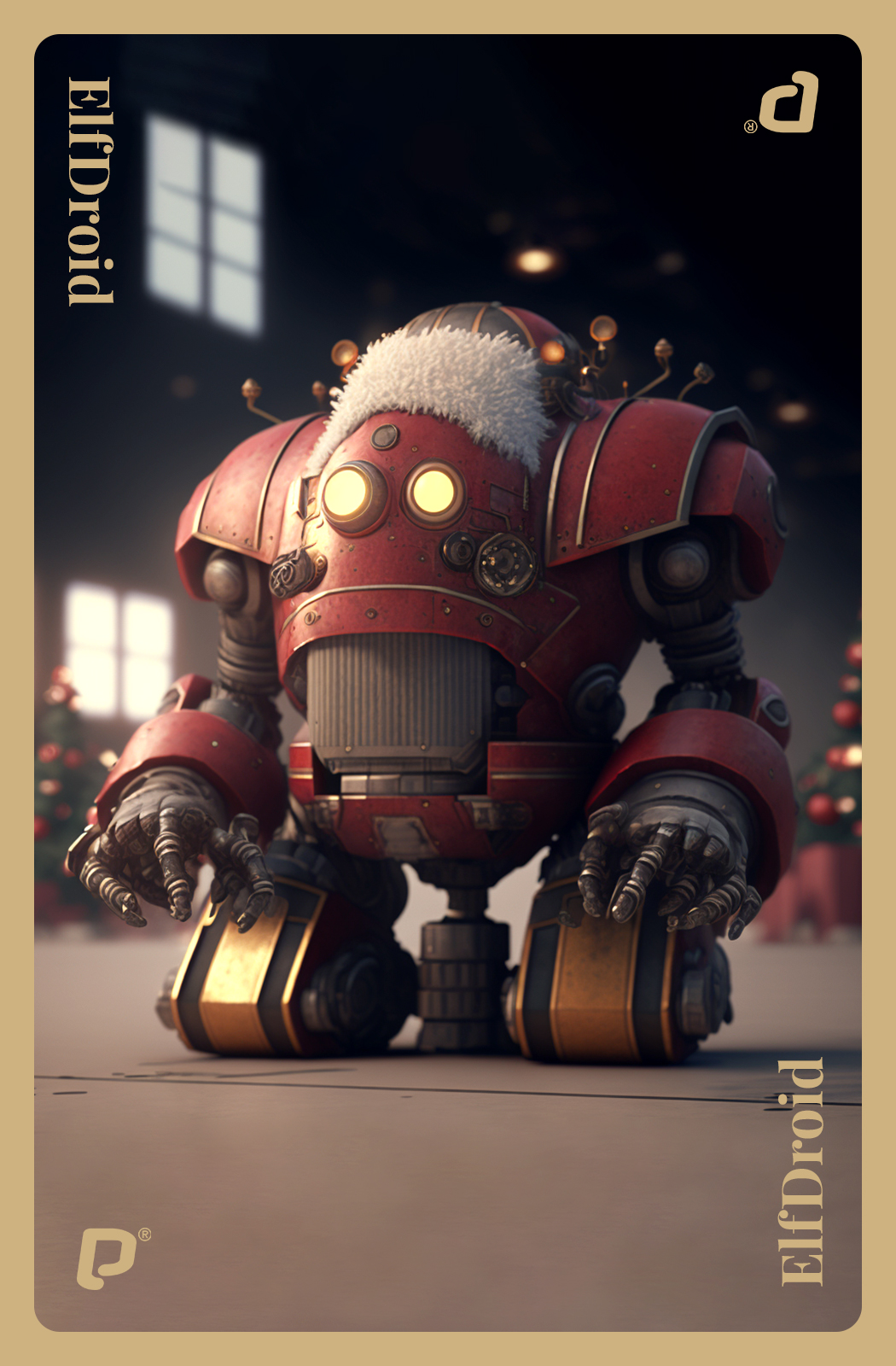 ElfDroid
An ElfDroid is a type of advanced robotic helper designed to assist with Christmas preparation. Equipped with sensory capabilities and voice recognition software, they are able to move autonomously and respond to their environment in order to perform a variety of tasks. These include cleaning Santa's workshop, stocking shelves full of presents and sorting items. What's more, some ElfDroids are even capable of learning and improving their performance over time due to their advanced artificial intelligence.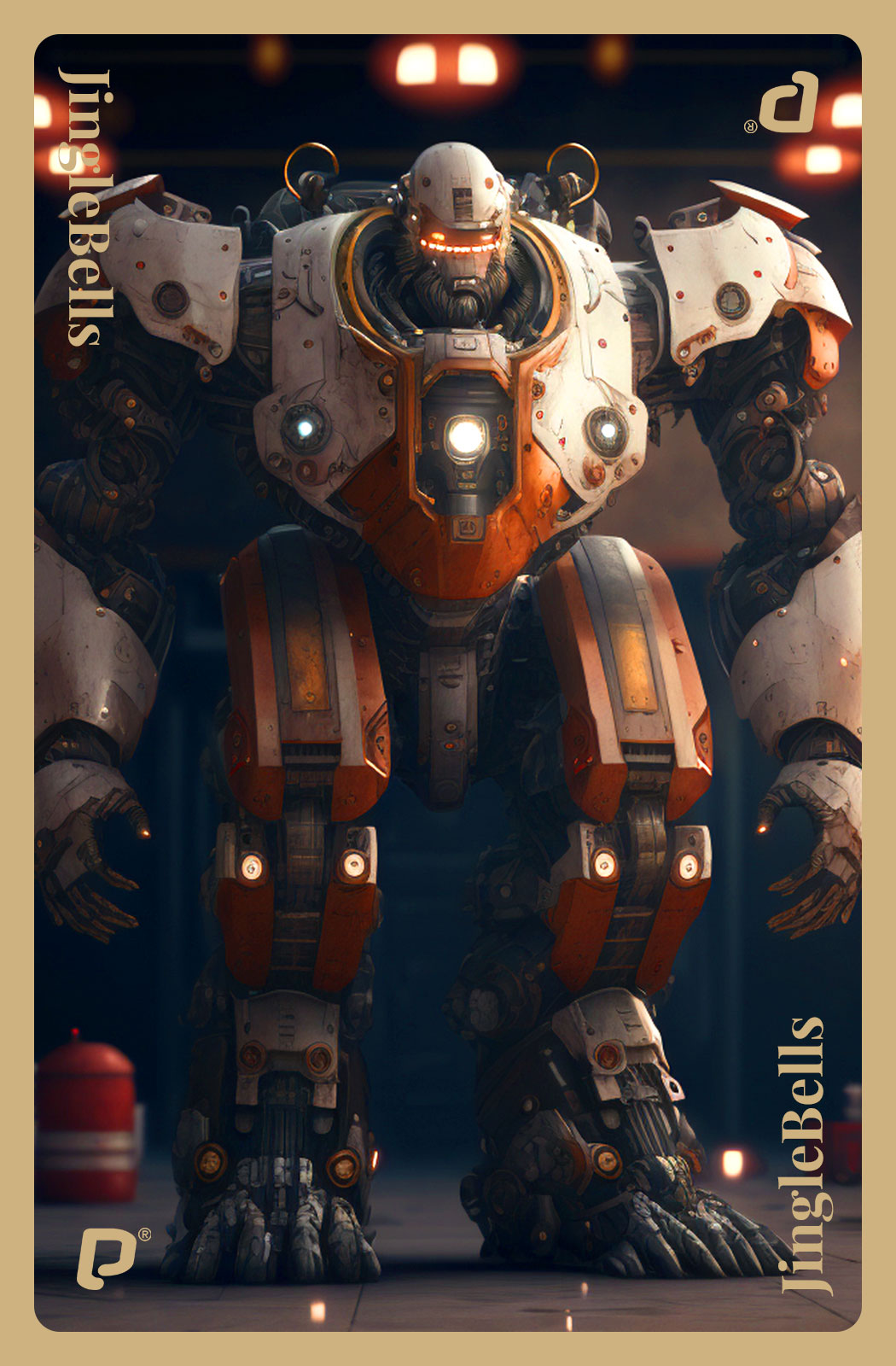 JingleBells
Despite his intimidating appearance, JingleBells is a beloved figure of the Christmas season and is always ready to spread joy to those around him. His signature bright red and white suit and grey beard are unmistakable and his jovial laughter can be heard throughout the land every Christmas Eve. Boasting incredible strength and resilience, JingleBells is an unstoppable force and no matter what kind of trouble he finds himself in, he always manages to come out victorious.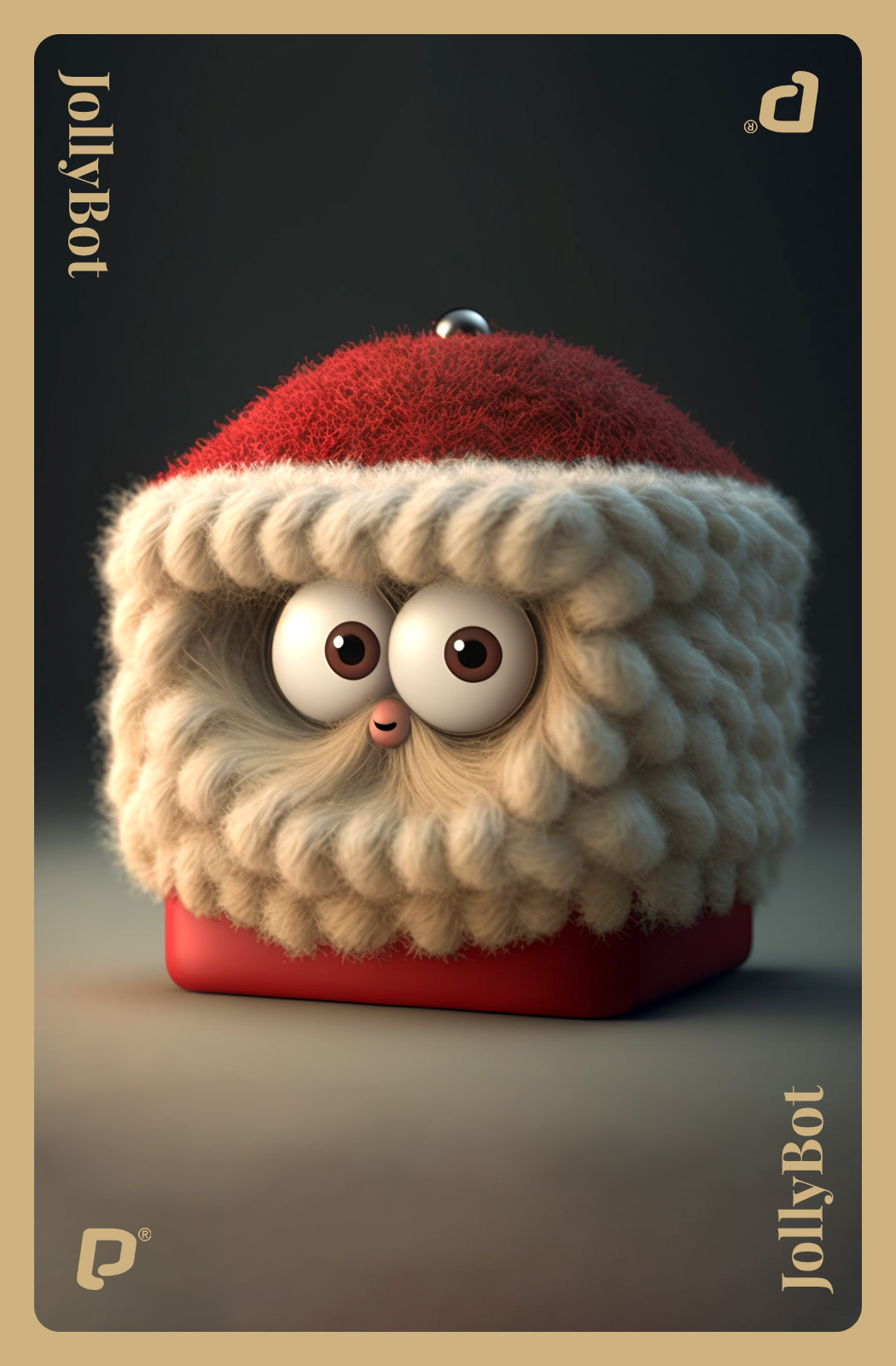 JollyBot
JollyBot is a computer–programmed mini bot that interacts with users using natural language processing, artificial intelligence, and a cute elf–like voice. For example, if a child wants to tell sAInt Nick what they'd like for Christmas, it might respond to them by determining if they've been naughty or nice and the likelihood that they'll get what they wish for, helping to keep them on track for the year. This way, children can communicate directly with sAInt Nick and get answers to any questions, no matter how unusual.
What does this mean for you?
At psyborg®, we are constantly testing AI applications across multiple platforms and the outcomes have been extraordinary. From developing concepts to creating artwork, the potential of AI–enabled software is boundless and sAInt Nick and his team of Merry Bots is just one of the kinds of projects we can carry out for our customers to meet their communication goals.
Want to know more? Get it touch with us to discuss your next project.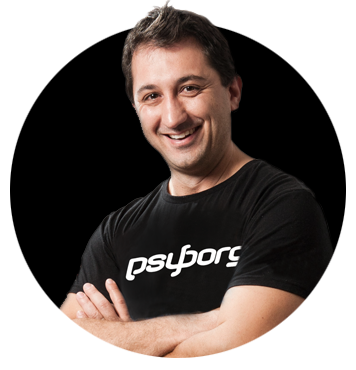 Daniel Borg
Creative Director
psyborg® was founded by Daniel Borg, an Honours Graduate in Design from the University of Newcastle, NSW, Australia. Daniel also has an Associate Diploma in Industrial Engineering and has experience from within the Engineering & Advertising Industries.
Daniel has completed over 2800 design projects consisting of branding, content marketing, digital marketing, illustration, web design, and printed projects since psyborg® was first founded. psyborg® is located in Lake Macquarie, Newcastle but services business Nation wide.
I really do enjoy getting feedback so please let me know your thoughts on this or any of my articles in the comments field or on social media below.
Cheers Daniel