What's in a Name
What's in a name really depends on having the right goals in place when choosing your business name and therefore logo …
Creatively, there are no limitations or restrictions to picking a good business name. We all have creative free will over choosing a name that describes our products or services. Where this gets tricky is that our names are competing with other names in the offline and on-line environment so we need a strategy behind our names to help customers remember our name against others!
99% of the time new start ups come up with a business name them selves. This is an exciting time for most start-ups and there passion to start the venture can lead start-ups to create names that are not completely strategic or creative, limiting long term benefits and future creative opportunity.
When we work with our clients on choosing a name it psyborg's goal that the name be distinctive, memorable, easily spelled and pronounced, suggest the product or service our clients' are offering and distinguish our client's from their competitors.
From our research, training and vast experience in logo design we have found that when choosing a name it is important to ensure;
The business name is able to receive trademark protection? (Although we may not necessarily register it)
Is the proposed business name available?
If the business will have a website, is a similar domain name available?
Is the name available for registration on various social media networks as a username. E.g: www.twitter.com/businessname , www.facebook.com/businessname , www.linkedin.com/in/businessname etc
Is the name and logo short and simple! The shorter and simpler the more memorable! The prospective customer will view it only for a fraction of a second, and within that short time the name should be stamped on the viewer's mind – or 'branded' as they say!
Have we used a coined word instead of a common word. A coined word has its own identity and is likely to enter the viewer's mind faster and stay there longer, it can also differentiate itself when performing internet search enquiries
Is the name associate-able with the product/services the company is offering
Does the name conjure up positive emotions and fire the imagination with new possibilities… this can help with creative direction in advertising
Can the name be used as a Verb – Think of Google! Now we say 'Google It' rather than 'Search It'!
Is it better to use the name itself as the logo/icon as it is more memorable?
Is the size and shape of the logo easily translated onto social media applications Twitter and Facebook restricting the name and logo to a small size so that it is meaningfully visible on social media pages
When we work with client's to help them choose there business name we ask them these questions;
Briefly describe what you want to achieve by offering your product or service?
Who is your target audience and what do they want or expect?
How is your product, service or organization positioned in the market compared to the competition?
Who are your competitors and what are they doing?
What elements of your company, product or service are differentiated to your competitors?
What type of emotions would you like conjured up when a user considers your product or service?
As you can see from this article, there is quite a bit that goes into a name, it's pretty much a matrix of options that you should try and get the majority right. Branding is a serious game and if you take some of the steps mentioned in this article you will be sure to have a head start in getting your business noticed and remembered.
What you need is cut through in a world where we are bombarded with so many messages in our offline and on-line environments!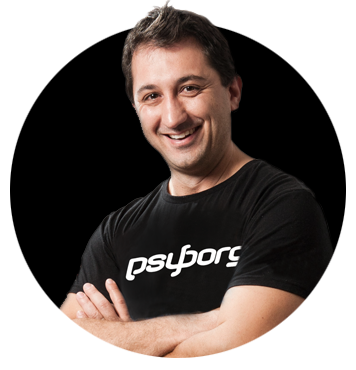 Daniel Borg
Creative Director
psyborg® was founded by Daniel Borg, an Honours Graduate in Design from the University of Newcastle, NSW, Australia. Daniel also has an Associate Diploma in Industrial Engineering and has experience from within the Engineering & Advertising Industries.
Daniel has completed over 2800 design projects consisting of branding, content marketing, digital marketing, illustration, web design, and printed projects since psyborg® was first founded. psyborg® is located in Lake Macquarie, Newcastle but services business Nation wide.
I really do enjoy getting feedback so please let me know your thoughts on this or any of my articles in the comments field or on social media below.
Cheers Daniel