Just started our 1500th project
I'm super excited to announce that I have just started my 1500th psyborg® project.
Some of these projects have been quite large taking months to complete, many have been small taking hours but all have been one stepping stone leading to the next.
I have been working with clients, running psyborg® for just over 9 years now and I am amazed and so grateful that it is still going strong and still feeling like it is just getting started.
With every new creative project there has been an opportunity to learn and realise that there is still so much more to learn, keeping it fresh.
Here are some interesting stats from the last 1499 projects;
I have designed 143 logos & have developed 220 websites
I have spent 11,675 hours designing, developing & project managing different creative project types
On average over the past 9 years, 40% of each week was spent running the business and 60% on actual design projects
In the first year, 2006, I completed 21 projects, and last year in 2013, I completed 164
Learning has not just been in the creative application and technology of the creative process, but in self development, how to operate a business in an agile environment and how to apply continuous improvement.
A few key things that I have learned about being part mind | part machine;
Every problem you are faced with is an opportunity to improve and when solved can propel you in interesting and unexpected directions
Design trends come and go, but good communication is set on design fundamentals which don't change
If things get tough, work on yourself and the rest will work itself out
Make time to meditate and be mindful as this stimulates calmness and helps you deal with stress & new opportunities
Keep learning and take every opportunity to continuously improve
For all of my clients reading this post, thank you so much for the opportunity to work with you, it has been a great pleasure to help you grow your business.
I'm intrigued by what could be next.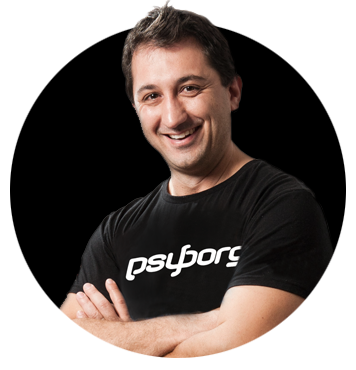 Daniel Borg
Creative Director
psyborg® was founded by Daniel Borg, an Honours Graduate in Design from the University of Newcastle, NSW, Australia. Daniel also has an Associate Diploma in Industrial Engineering and has experience from within the Engineering & Advertising Industries.
Daniel has completed over 2800 design projects consisting of branding, content marketing, digital marketing, illustration, web design, and printed projects since psyborg® was first founded. psyborg® is located in Lake Macquarie, Newcastle but services business Nation wide.
I really do enjoy getting feedback so please let me know your thoughts on this or any of my articles in the comments field or on social media below.
Cheers Daniel