Logo Usage Tips
Sometimes you may notice whilst flicking through a newspaper that some companies may mistakenly represent themselves by presenting their logo in a blurry or distorted manner. This can occur when one party distributes their logo files to another with incorrect or no instructions, or the wrong file format.
To help ensure that this does not happen to you, psyborg® has developed a top 10 logo usage tip list, assisting you in the correct application of your logo.
Here are some tips on how to get the most out of your companies logo.
EPS files
If your logo was professionally designed, it should be available in EPS (Encapsulated Post Script) format. This is a vector file type which means that it can be scaled to infinity and beyond without loss of quality and remaining sharp. This is a standard file type that can be used by all printers, publications and sign-writers. It can also be used to convert to other logo file types.
JPEG's and GIF files
Jpeg and Gif Files are web file types and thus were designed to display images on the screen. When supplying your logo to affiliates it is recomended to provide them with EPS formats first unless otherwise directed.
Style Guide
One way to help maximize and communicate the presentation of your logo is to have a style guide created for it. This addresses the rules of application for your logo and can be easily distributed to your affiliates.
CMYK or RGB
When sending your logo to your printers you should ensure that it is in CMYK format. CMYK is the color standard for press processes. Alternativley, RGB files are kept aside for on screen use. If you submit your logo file in the incorrect color format you will risk the colors not being published with the correct hue and tone intended.
Fonts outlined
If your logo contains a particular font, you should ensure that the font is outlined, so that it is no longer a font but now a vector shape. This means that the publisher does not need to have your font, thus reducing the potential for error.
Colour conversion to black and white or reversed
Depending on where your logo is used, you should have the option of supplying it in Black and White, White reversed or with a white outline. This is particularly relevant for black and white printing or when the logo is used over a photo or shape.
Converting your logo directly to black and white may not represent your logo in the best way as the tonal conversion may not be easily distinguished between shapes and color. A designer should be able to direct you how to best use your logo when converted.
Less is more
I find that the best designed logos are the simplest in form but represent the product or service in the most elegant and unique point of view. A logo should be memorable, recognizable and differentiated in the marketplace. The most unified, researched and well executed solutions are usually the nicest solutions.
Consistency
The power of your logo is truly recognized through consistency and repetition. You should aim to place your logo on all of your business stationery and communication material in a measured and uniform manner. This will ensure that your customers and potential customers instantly recognize your brand in there minds eye further building on your business reputation.
Make your logo visible
Although your logo might still be legible at a smaller size, your logo will lose definition and impact if it's reproduced any smaller than 6 mm. When placing your logo, ensure that it has proportionate space surrounding it so that it stands on its own and does not collide with other design elements.
Trademarks
You may want to consider registering your logo as a Trademark ensuring that a similar logo is not already in use and preventing others from copying it and registering it before you do.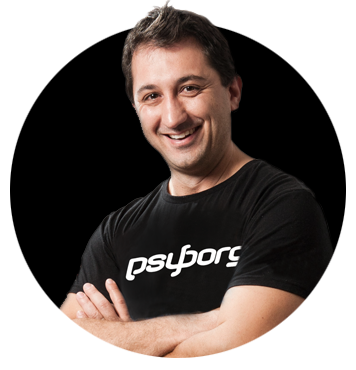 Daniel Borg
Creative Director
psyborg® was founded by Daniel Borg, an Honours Graduate in Design from the University of Newcastle, NSW, Australia. Daniel also has an Associate Diploma in Industrial Engineering and has experience from within the Engineering & Advertising Industries.
Daniel has completed over 2800 design projects consisting of branding, content marketing, digital marketing, illustration, web design, and printed projects since psyborg® was first founded. psyborg® is located in Lake Macquarie, Newcastle but services business Nation wide.
I really do enjoy getting feedback so please let me know your thoughts on this or any of my articles in the comments field or on social media below.
Cheers Daniel