Two new ways to advertise your business online
Google Remarketing and Facebook Pixel are two relatively new methods businesses can use to advertise online and digitally. These methods are very powerful but not many businesses are aware of them or the benefits they can have to a business.
What is Google Remarketing?
Have you ever searched for a product to purchase and a day or two later notice it keeps popping up in ads online? This is remarketing. Remarketing helps you reach people who have visited your website or used your app.
Remarketing is a clever way to connect visitors to your website who may not have made an immediate purchase or enquiry. It allows you to position targeted ads in front of a defined audience that had previously shown interest in your website, as they browse elsewhere around the internet.
How can you leverage Google Remarketing for your advertising dollar?
When done right, remarketing can be a powerful tool that will draw in customers/clients. How you set up your remarketing campaign depends on your business and the types of customers that you want to grab the attention of.
What is great about Google Remarketing is that you are in control and there are many aspects you can set to reach the audience you want to and get the outcomes required.
For example if you want to reach everyone that visits your webpage you can do this. This is the most basic way to remarket. So Jane visits your webpage, next time she is online your ad will appear on other webpages she visits.
There are many different strategies you can also set with google remarketing. For example maybe you only want to reach customers who did not purchase a product or contact the business (visitor who did not convert), or you only want to reach those visitors with abandoned shopping carts to try and get the sale.
Here's a quick rundown of some of the lists you can create in Google Remarketing.
You can also pick locations for your ads so you are not reaching an international audience if that is not what you are after. Another great tool is you can reach an audience within a certain time frame, so if perhaps they purchase something that may need restocking in 90 days time like makeup or body lotion then you can make it so the ad will appear in 90 days time. You can also set ads to appear at a specific time of the day or night. This is beneficial if you are targeting a certain audience who you know spends more time online at a certain time of day, for example students.
There are many structures you can tailor to meet the needs of your business and here is a good list of them.
While researching I also found this bit of fun, check out who is retargeting you. Search a few sites and then have another look!
What is Facebook Pixel?
Facebook Pixel is a piece of code that you can place on your website to report conversions, build audiences and get rich insights about how people are using your website. With Facebook Pixel, you can; 
Measure cross-device conversions

Optimise delivery to people likely to take action

Automatically build audiences for website visitors to retarget

Create 'look-a-like' audiences and

Run dynamic product ads and a

ccess audience Insights
Source; Facebook Business
How can you leverage Facebook Pixel for your advertising dollar?
Because so many people (c'mon almost everyone) has a Facebook account that they are always logged into, Facebook pixel is a great advertising tool. This is how it works; if I am logged into Facebook on any device, and I use that device to search a website then Facebook pixel tracks it. It knows what websites I have visited, what pages on the site I viewed, what time of the day I did it, whether I purchased an item etc. Using this information you can build target audiences to advertise toward on Facebook and Facebook Pixel can advertise to them no matter what device they are using as long as it is logged in with Facebook. 
Like google remarketing you can customise your Facebook pixel to be most effective for your business. You can make different ads to target particular audiences, i.e. if you sell mens and womens clothes you don't want your mens ad going to someone who has been searching your womens page, a conversion is unlikely.
One of the great tools on Facebook Pixel is creating 'look-a-like' audiences. This is exactly how it sounds. Once you have an audience, (a list of people who have already visited your website), you can create a look-a-like audience, people who resemble those who have already visited your website. This allows you to reach people who may not have found your site but may be interested in it based on the data received about your audience. So based on gender, age, location etc. You can imagine the possibilities that lie behind this tool!
To Sum Up!
Advertising has been around for ages and it has changed and continues to change with the times. Google Remarketing and Facebook Pixel are the latest in these advertising tools. They enable businesses to 'chase' customers, help to make conversions and also hunt out new and interested customers. This is advertising with inteligence. If you think this may help your business and need help in setting up a digital campaign be sure to get intouch!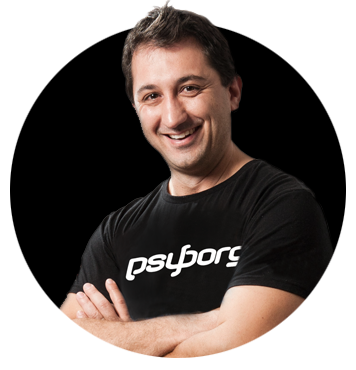 Daniel Borg
Creative Director
psyborg® was founded by Daniel Borg, an Honours Graduate in Design from the University of Newcastle, NSW, Australia. Daniel also has an Associate Diploma in Industrial Engineering and has experience from within the Engineering & Advertising Industries.
Daniel has completed over 2800 design projects consisting of branding, content marketing, digital marketing, illustration, web design, and printed projects since psyborg® was first founded. psyborg® is located in Lake Macquarie, Newcastle but services business Nation wide.
I really do enjoy getting feedback so please let me know your thoughts on this or any of my articles in the comments field or on social media below.
Cheers Daniel