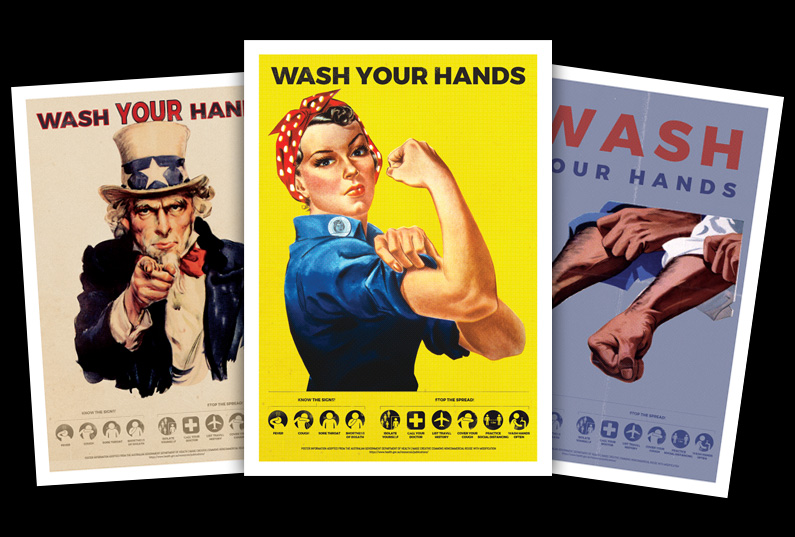 As these unprecedented events unfold we can all see that we have a fight on our hands … literally.
To be honest I'm feeling a little overwhelmed by the possibilities of what could be facing my family, friends, community and the world at large right now.
I've been racking my brain on what I can do to help. We're all being isolated at the moment with little contact but I am fortunate enough to be able to continue to do what I love from my home studio … and in my roles in design thinking and communication … this is the current solution I have right now, just a small thing I can do to try and help the situation.
Initially, the first idea I had was to design a simple poster for my business that I could use and share with my clients. My aim being to remind us all to reprogram ourselves for the new habits we needed to pursue over this time … this led me to generating over 60 individually branded posters specifically for my clients for them to hang in their offices for their teams and clients.
But then it struck me whilst listening to Joe Rogan and Sam Harris today on separate podcasts about Coronavirus, that we are at war with it and it's up to each of us to remain vigilant. To follow the advice of the experts, know the signs and stop the spread. It's up to each of us to use this power to defeat this invisible monster.
My thoughts were, why not reference WWII war propaganda posters from yesteryear to help inspire this message and something that would make me smile when put up in my house my house to remind me to be vigilant and to follow the advice.
Hence after some research I learned that these War Propaganda illustrations are available for 'creative commons noncommercial reuse with modification' so we are able to redeploy these images from yesteryear to motivate us to stay focussed on defeating Coronavirus and look after our communities.
Huge respect goes out to the talented artists that created these powerful images;
Thanks also goes to the Australian Government Department of Health for the info-graphics I've adopted.
Please feel free to download, share amongst your friends and print so we can not only get this message out far and wide but remind us to be vigilant and take the right actions to know the signs and stop the spread.
Stay safe and remain vigilant.
Cheers Daniel.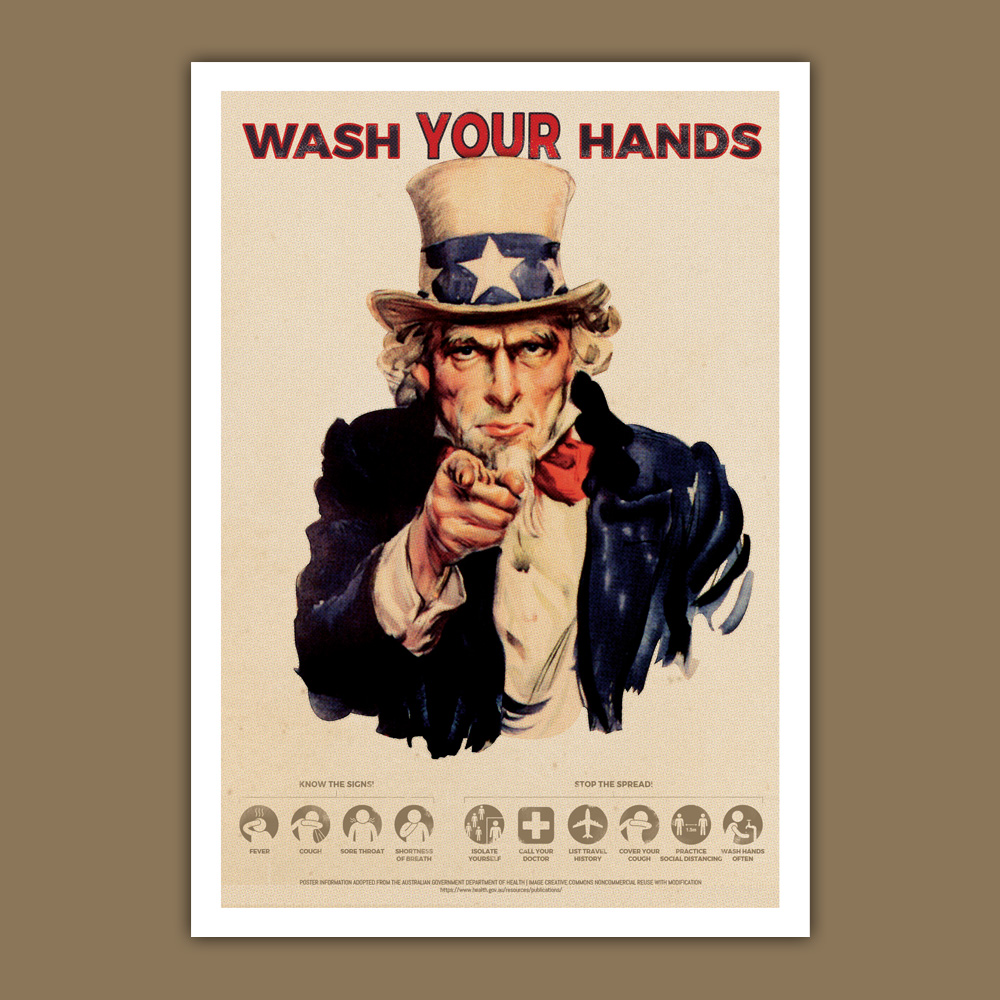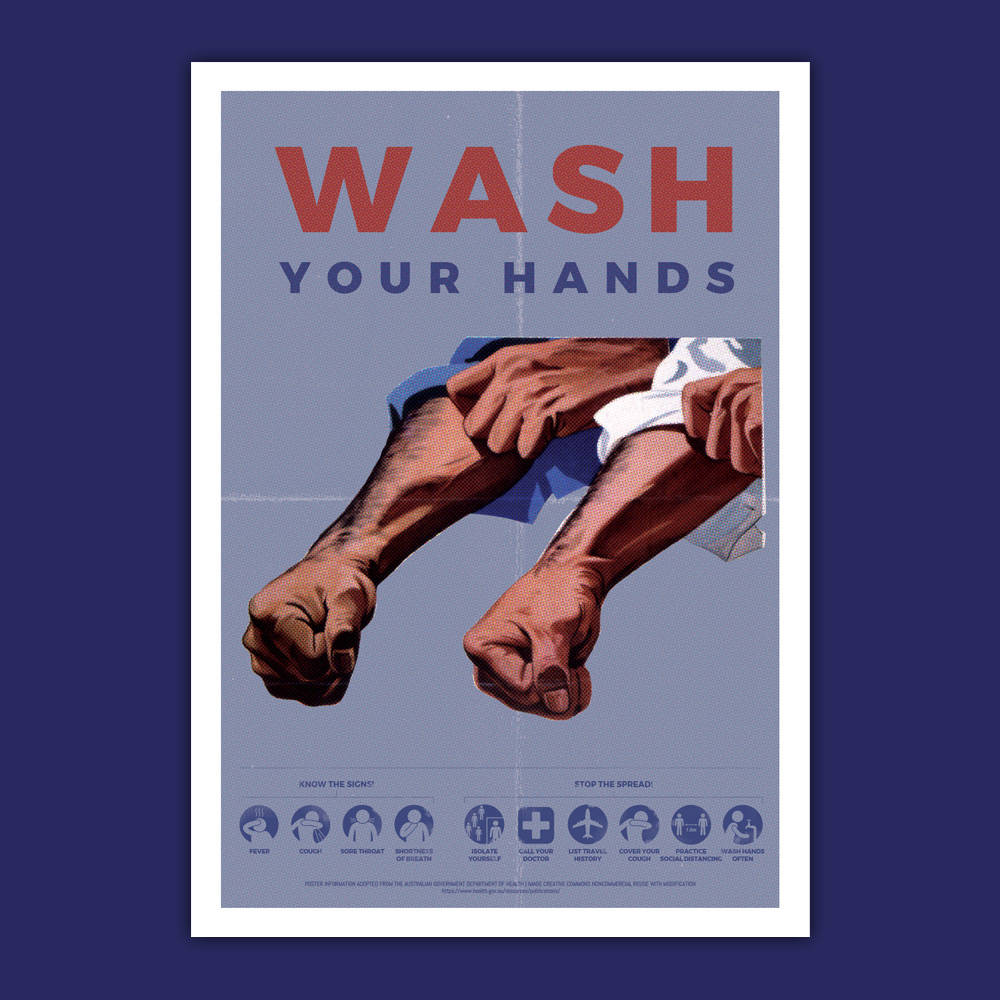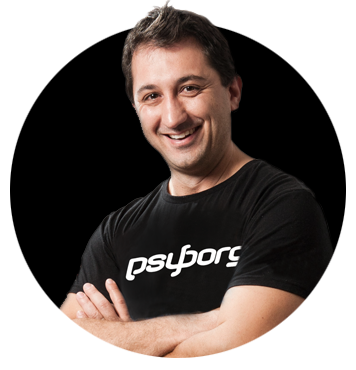 Daniel Borg
Creative Director
psyborg® was founded by Daniel Borg, an Honours Graduate in Design from the University of Newcastle, NSW, Australia. Daniel also has an Associate Diploma in Industrial Engineering and has experience from within the Engineering & Advertising Industries.
Daniel has completed over 2800 design projects consisting of branding, content marketing, digital marketing, illustration, web design, and printed projects since psyborg® was first founded. psyborg® is located in Lake Macquarie, Newcastle but services business Nation wide.
I really do enjoy getting feedback so please let me know your thoughts on this or any of my articles in the comments field or on social media below.
Cheers Daniel