How to ask for Testimonials
What is a Testimonial?
A testimonial is a recommendation from a satisfied customer conveying the performance, quality and value of a service or product. They can be requested for or just given when work has been completed.
Why are Testimonials important?
Testimonials can be an extremely strong and necessary marketing tool.
If a new client or customer is trying to decide whether to choose to work with you, then a few good testimonials can prove that you really are the right choice.
When perspective clients or customers are searching for an expert they often visit webpages, social media, Facebook reviews, GoogleMyBusiness reviews to learn what quality to expect from a business, and essentially decide whether or not they will choose that business to give their work to.
What type of Testimonials are out there?
Testimonials can be text, image, or video. While a written testimonial is the most common form of testimonials, images and videos can be very effectives as well. Images may be of a client using their purchase or showing a final product. In my line of business it might be a client standing in front of a sign I created. Often images will include a written testimonial as well stating why they are happy with the completed work. Videos can be great because unlike written content, you can see the customers expression and passion for what they are talking about. It is good to keep all forms in mind when asking for a testimonial and perhaps give the client the option.
There are some 3rd party review sites where testimonials can also appear. These generally rate a particular profession though and unless you are in that profession and keeping an eye online to see if any reviews have been written they may or may not work for your business. Some of these include Rate My Agent, FourSquare, TripAdvisor, GoogleMyBusiness, Yelp and more.
Also tools such as Facebook & GoogleMyBusiness reviews are becoming more and more popular and you can choose to put testimonials on your businesses website.
How to ask for a Testimonial?
Firstly make sure you are testimonial worthy! Make sure you do a great job consistently! You should work like everyone you work for is going to review your business. This way you should never have a bad testimonial and you can ask everyone for a testimonial.
It's pretty easy to get testimonials and no harm in asking. Not everyone has the time to do one and people are forgetful so don't push it but, at the end of a job, ask for it in a survey form via an email with a link to the form. Surveys are easy to create, easy to fill out and can give some great information about a business. Within the survey a written section can give more detail and be used on your websites or social media if desired (ask permission in the survey). Also if some negatives do come up in the survey you can either work to rectify the issue or keep it in mind for future business dealings.
If you are after reviews on GoogleMyBusiness or the like then give written instructions with screen shots on how to complete it and offer a discount or a gift to encourage clients to do it.
An example of how to do this is… you could offer a box of chocolates with a note on the lid explaining how to give a review on GoogleMyBusiness, this could be a small flyer with graphics showing the steps. This would be effective because every time the customer has a chocolate you are reminding the customer to write the review. It may take a little while but no doubt by the time the customer has finished the box of chocolates the review would have been made. 
To Sum Up
Word of mouth is an amazing advertising tool. Testimonials aid in this as it can help build and promote a business giving it credibility. Remember to work like everyone is reviewing your business and don't be afraid to ask for a testimonial at the end of customer interaction! This is made a lot easier by coming up with a system for asking that could involve templated emails, online surveys and carrot to encourage the user to take action. Check out some of my testimonials at psyborg®.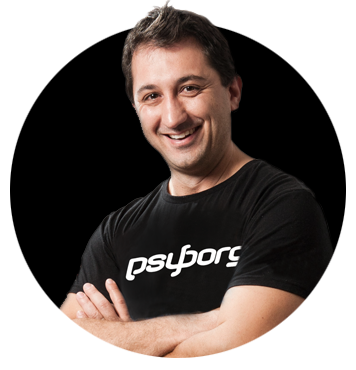 Daniel Borg
Creative Director
psyborg® was founded by Daniel Borg, an Honours Graduate in Design from the University of Newcastle, NSW, Australia. Daniel also has an Associate Diploma in Industrial Engineering and has experience from within the Engineering & Advertising Industries.
Daniel has completed over 2800 design projects consisting of branding, content marketing, digital marketing, illustration, web design, and printed projects since psyborg® was first founded. psyborg® is located in Lake Macquarie, Newcastle but services business Nation wide.
I really do enjoy getting feedback so please let me know your thoughts on this or any of my articles in the comments field or on social media below.
Cheers Daniel