What is Design Thinking?
Design thinking refers to design-specific cognitive activities that designers apply during the process of designing. Source- Wikipedia
Design thinking is critical in my business, it is what I use to achieve the best results for not only my clients but also for my business. Design thinking is what is used to solve problems and create work to the highest quality. It is the best method that can be used to uncover creative insights and achieve high success.
What is the standard definition of the design process?

The design process consists of a number of steps.
Define: Defining the problem or need
Collect: Researching the problem & collecting information
Brainstorm: Brainstorming ideas and developing possible solutions
Prioritise: Determining the best solution and developing the promising solution or building a test model
Implement: Try, test or present the ideas to others for feedback
Improve: Improve on the solution or test model
Repeat
These steps can be repeated if needed to achieve higher success. The design process is used for a variety of projects in countless areas. It can be used when designing a website, when selling food, when organising the furniture in a restaurant, when hiring staff, when increasing business; when solving almost any problem, big or small you can apply design thinking.
How can we solve problems using design thinking?
I believe the most effective way to solve problems is using design thinking. Once the problem or need has been defined then we can work at solving it. Design thinking is a way of breaking the problem down to come up with the best solution, not just rushing in to solve the problem and coming up with an okay solution. When I am designing, these are the steps I take to produce the best final product.
Lets say I am designing a logo for a valued client. Firstly I need to work out what the problem is, and define it in a way that I understand. This is the first step, define which also includes talking with the client and finding out their ideas, and what they want from the logo. In this step I also get to know my client and learn about their clients, or their client avatar, their target market, their competitors and the values they wish to express. This is where we overlap into the second step, collect and this helps me understand the audience and will help me to design a logo that caters to the needs of the client and solves the problem.
Secondly, once I understand the problem and who the logo is aimed at, I come up with multiple solutions or ideas through brainstorming, which is the third step. I conceptualise as many as I need, until I feel I have done enough to solve the problem.
Thirdly, I usually take a small break from the task before I have another look at my solutions and refine the ideas by getting rid of the ones that don't stand out to me as the best solutions. This is where I prioritise and sometimes, if I come back and nothing seems to jump out to me, I will have another go at defining the problem and create more designs. At times I need to repeat this step, walk away from the project and come back fresh minded.
When ready I continue to prioritise, I pick the best. As I am solving clients problems I usually pick my top three. If I have a favourite I tell the client this but I am always happy enough with my top three to be happy with the one they choose. Sometimes the client will have some small changes and I will amend these, making sure both I and the client are happy with the result.
Finally, after talking with the client I perfect the final choice. I make changes the client has requested and I focus on perfecting that final design.
The result? The absolute best logo for my client which we implement. The implementation phase can be a test phase where we test the solution with the target market or a select group where knowledge obtained can be fed back into the design cycle where the solution can be improved.
I have given an example here of using design thinking when creating a logo. But this is just the tip of the iceberg. I use design thinking in most if not all of my design creations and in business decisions.
How can we add value to business through design thinking?
Above, I described my process when designing a logo, but design thinking is beneficial in all areas of business also. We use it subconsciously throughout our day.
I have used design thinking to build my business and business culture. From how to design my office to who is my client avatar. Once I come up with an idea or problem I start brainstorming, I come up with solutions and I refine these until I am happy with the result.
For example when I decided I wanted to expand my business I had a problem. My problem was time, I simply did not have enough hours in the day to give my business the time it needed to grow (defining the problem or need).
I looked at this problem closely. I looked at my timesheets. I determined where my time was spent (researching the problem).
I began to look at where I could save time. I brainstormed ideas using mind maps. I determined solutions to some big problems and researched and learnt ways I could automate tasks in my office (developing possible solutions).
I then started to put these solutions into practise. I hired a part time admin assistant, I used some of the researched solutions and automated work I had been doing myself (testing the ideas).
After testing the solution I found it helped. This encouraged me to go above and beyond and develop more time saving ideas.
I then went on to clear up my office as this was another problem I had, I used design thinking to do this, from how to declutter the office to how to position furniture. I went paperless! I didn't walk into it thinking "how can I use design thinking today?' I subconsciously solved my problem using design thinking. My business and office continues to improve using this process.
To Sum Up
In summary, design thinking can be used in all areas of life to achieve the best results to solving any problem. It is a path to 'not rush in' with basic solutions that may end up causing more problems down the track.
I think in business, design thinking allows time to consider solutions, and steps to see what solutions are best to solve a problem. If design thinking isn't used then we are more likely to jump right into our ideas without proper consideration. This can mean that the best outcomes may be overlooked. Design thinking may take a little longer but it certainly is worth the time with the results it achieves.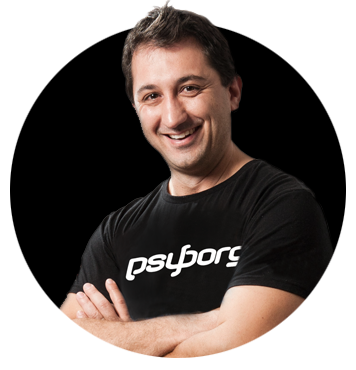 Daniel Borg
Creative Director
psyborg® was founded by Daniel Borg, an Honours Graduate in Design from the University of Newcastle, NSW, Australia. Daniel also has an Associate Diploma in Industrial Engineering and has experience from within the Engineering & Advertising Industries.
Daniel has completed over 2800 design projects consisting of branding, content marketing, digital marketing, illustration, web design, and printed projects since psyborg® was first founded. psyborg® is located in Lake Macquarie, Newcastle but services business Nation wide.
I really do enjoy getting feedback so please let me know your thoughts on this or any of my articles in the comments field or on social media below.
Cheers Daniel