Engage your Environment
Recently, I had the pleasure to collaborate with Steph Hinds, Alan Spicer, Kristy Williams and the rest of the Growthwise team. I was asked to help them with there branding, website, email and environmental graphics. I originally created the Growthwise brand and as the team have grown considerably, it was now time to expand their brand in new directions.
Growthwise are a young and vibrant accounting firm located in the heart of Newcastle, servicing a vast range of innovative and dynamic clients. Steph and her team are a pretty innovative bunch… they are savvy with social media, cloud computing and provide interesting methods of helping their clients grow. Growthwise run an innovative program known as the 'Ninja Program' where they educate their clients through different levels of achievement known as the L-Plater, P-Plater and Black Ninja classes. Each Ninja progresses through various skill sets as they grow and eventually graduate to a Black Ninja.
Growthwise came to psyborg® with this vision and requested that we create a visual metaphor to help explain these concepts and processes presented in social media, the web and in their own environment. With a core message of 'Think, Learn, Grow & Kick Arse' we created a Superhero vs Ninja concept showing the world that these are not your ordinary accountants.
I designed the staff members as superhero's and created some ninja characters for the three levels of clientèle. The caricatures were used as social media avatars for the staff at Growthwise, on the Growthwise website; assisting in explaining their programmes, email newsletter templates and as environment graphics on the office walls.
In designing the office graphics we tailored each room so that the elements of 'Think, Learn, Grow & Kick Arse' would be represented whilst portraying the different stages of growth.
Think
We chose to use 'Think' as the board room environmental graphic. This is the most subtle of the graphics and is neutral in tone, used to promote thinking, brainstorming and discussion. This is where new clients visit first so we wanted to ensure these graphics were conservative… we did not want to scare away new clients.
Learn, grow & kick arse
We then introduced, each ninja in the remaining three conference rooms in the hope of injecting some spirit in the conversations to be had. We combined these four designs with a green futuristic stripe linking all of the rooms, the website, email newsletter templates and the Growthwise brand. We also ensured that the superhero characters were not used in the office graphics as we did not want the staff looking at them selves all day.
The wall graphics Daniel created have certainly made an impact with our clients. Not only do they liven up the room but they are a talking point for our clients. When going into a room with LEARN plastered all over the walls it's hard to forget what you are there for. We have had some fantastic positive comments from clients who are now talking about our *walls* to others. It's also been great for introducing new clients who understand very quickly what we are about… helping clients think, learn, grow and kick-arse. – Steph Hinds
An engaged office
This concept and execution goes a long way to differentiate Growthwise as an innovative and forward thinking accountancy & business advisory firm. The environmental graphics give energy and colour to the office instantly communicating personality, technology and their vision. The graphics promote action which is at the core of business success. A huge thanks must go out to Steph and the Growthwise team for collaborating with psyborg® on this project as their vision and attitudes have been rewarding and we are enjoying learning about the various reactions and new directions this creative approach is taking.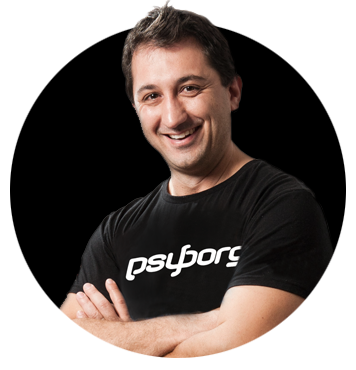 Daniel Borg
Creative Director
psyborg® was founded by Daniel Borg, an Honours Graduate in Design from the University of Newcastle, NSW, Australia. Daniel also has an Associate Diploma in Industrial Engineering and has experience from within the Engineering & Advertising Industries.
Daniel has completed over 2800 design projects consisting of branding, content marketing, digital marketing, illustration, web design, and printed projects since psyborg® was first founded. psyborg® is located in Lake Macquarie, Newcastle but services business Nation wide.
I really do enjoy getting feedback so please let me know your thoughts on this or any of my articles in the comments field or on social media below.
Cheers Daniel