A quick guide to Content Marketing
The practice of 'Content Marketing' is fast becoming the premier tool in the SEO marketing toolbox.
Content Marketing is the practice of supplying targeted, relevant and sharable content to your audience in the hope that it will be shared, liked and enquired about. It is a method of turning potential customers into leads whilst adding indexed content to your website that is best shared on social media platforms.
The goal of successful content marketing strategy is to create compelling content that is sharable, original and relevant to your brand whilst being indexed on the web.
Content Marketing can come in a few mediums that will ultimately be published on a page or blog post on your website and linked to from other websites.
Examples of content marketing are;
A news or blog article
An image with supporting copy
A video
An infographic
A sound clip
A meme
Content developed should be interesting, original, useful & newsworthy. It should not be boring and ignorable and it should never be plagiarised. Plagiarised content is easily traceable online which will quickly erode your brands credibility.
When determining content, this should ultimately fit into context of an overall brand communication strategy. This will help your audience learn and understand your brand personality.
The Content Marketing strategy should be agreed upon by your team so that any content created fit's into the context of organisational goals and the brands personality.
A good Content Marketing Strategy will increase your website SEO rankings. Putting it into practice will generating fresh and relevant content encouraging search engine robots to come back to re-index and rank your website.
Relevant keywords should also be used in your articles as these get associated with your brand, via your URL through permalinks and meta data.
Linking to these articles from various social media websites such as Facebook, Twitter and LinkedIn will also generate new links to your website adding to the link weight of your website.
If you're passionate about your brand, company, product or service, it should not be too hard to create original content within a content marketing strategy as this should come natural to you. It's just a matter of presenting your ideas in interesting and engaging ways. It's even better if you can express your brand and personality through the content so that it has your mark on it.
For more information on Content Marketing and to see if we can help your business create a content marketing strategy, feel free to get in touch.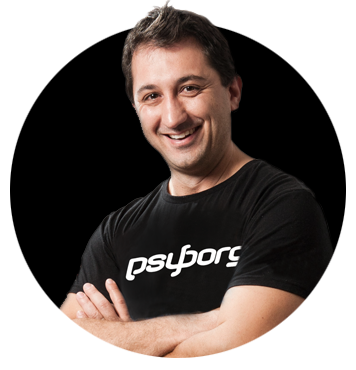 Daniel Borg
Creative Director
psyborg® was founded by Daniel Borg, an Honours Graduate in Design from the University of Newcastle, NSW, Australia. Daniel also has an Associate Diploma in Industrial Engineering and has experience from within the Engineering & Advertising Industries.
Daniel has completed over 2800 design projects consisting of branding, content marketing, digital marketing, illustration, web design, and printed projects since psyborg® was first founded. psyborg® is located in Lake Macquarie, Newcastle but services business Nation wide.
I really do enjoy getting feedback so please let me know your thoughts on this or any of my articles in the comments field or on social media below.
Cheers Daniel