Untethered with Daniel Borg & Michael Booth
In this untethered conversation I have the pleasure of being interviewed by 4 times World Champion SUP Athlete Michael Booth for his podcast BOOTHCAST, who I have been sponsoring and supporting over the past 8-10 years.
We discuss many things related to Mick's sporting and business success … mindset, branding, sports marketing and an insight into our collaboration together.
A little about Michael … known as the Aussie SUP Powerhouse continuing to dominate in the sport internationally, is fast becoming the most highly regarded and respected SUP contender world-wide.
The last four years has seen the best of Booth as he has become APP World Tour Distance series champion, 3 x World Distance Race Champion, 3 x Australian Champion, 3 x European Tour Champion. Needless to say, Michael continues to impress his sponsors and loyal followers.  Michael prides himself on the quality and consistency of his performance and believes that success can only be achieved through hard work, self-belief and dedication – words which he continues to live by during both the off season and the racing season.
There is no doubt that Michael is both physically and mentally strong, pursuing in setting himself some huge personal goals to be the best in the sport as well as encouraging others to reach their goals. Booth launched his own coaching business, which he offers all over the world as well as tailored and personalised online programs, sharing his knowledge and skills in SUP racing. Additionally, Michael has released a paddle range called MB Paddles with the Thor!  When asked, "what's the secret?"   I really don't have a secret. I like training hard, I like seeing progress and I love setting myself goals to work towards, there really isn't any better feeling than when you can and do finally achieve them.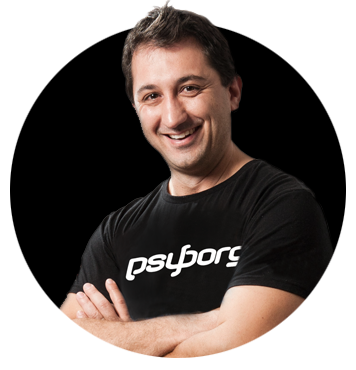 Daniel Borg
Creative Director
psyborg® was founded by Daniel Borg, an Honours Graduate in Design from the University of Newcastle, NSW, Australia. Daniel also has an Associate Diploma in Industrial Engineering and has experience from within the Engineering & Advertising Industries.
Daniel has completed over 2800 design projects consisting of branding, content marketing, digital marketing, illustration, web design, and printed projects since psyborg® was first founded. psyborg® is located in Lake Macquarie, Newcastle but services business Nation wide.
I really do enjoy getting feedback so please let me know your thoughts on this or any of my articles in the comments field or on social media below.
Cheers Daniel