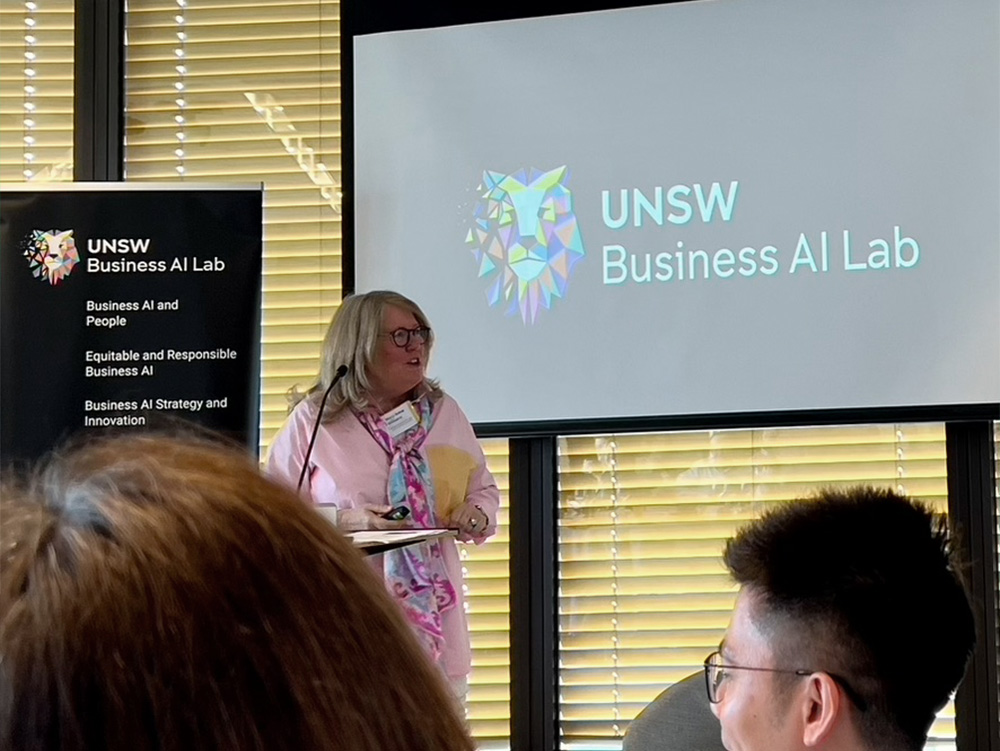 Most people don't know it, but they could already be using AI.
I recently had the pleasure of attending the UNSW Business School launch of the 'Business AI Lab', which is an exciting venture connecting AI with Business in Australia.
I was invited because of the collaboration I have had with the lab founder & director, Mary-Anne Williams whom I have collaborated with on various design projects for over 20 years. I'd assisted Mary-Anne recently with the brand development of the UNSW Business AI Lab, so naturally I was excited to attend the launch.
The launch was held at EY Sydney in an amazing room overlooking Sydney harbour icons but more importantly the room was filled with very 'human' experts and stakeholders from the AI industry where we heard from Keynote Speakers; Mary-Anne Williams (UNSW), Stella Solar (Director, National Artificial Intelligence Centre at CSIRO) and Panelists; Portia Cerny (EY), Fei Huang (UNSW), Angela Donohoe (BPAY), Luiz Pizzato (CommBank) & Michael Storozhev (CoverMore) of the opportunities and challenges ahead in AI.
We listened to real world insights into AI that are making a difference and we workshopped through concepts around AI that we are already engaged in.
To me though, the biggest take away was the fear surrounding AI and the slower adoption in Australia complemented by the fact that AI is already here we could be using it unknowingly.
So what is AI anyway and how are we already using it?
AI or Artificial Intelligence is the ability for computer systems to mimic human cognitive functions such as learning and problem-solving. Through AI, a computer system uses maths and logic to simulate the reasoning that people use to learn from new information and make decisions. Learn more here.
AI uses very large data sets to process and gain insights into patterns, statistics & correlations, to form the basis of decision making. The more data the better, as AI can take the burden from human analysis as very large data sets are unusable to a human. With more and more data points becoming online as the internet becomes more embedded into with our lives (Think iOT devices), humans simply do not have the ability to comprehend this overload of data.
Furthermore in an ever-changing and increasingly complex world AI can be used as a work horse to help us solve complicated problems using the mass of data available to it.
So how am I already using AI?
Here are 5 examples of how I am already using AI in my business;
1. Microsoft Excel
Excel seems simple right, but did you know Excel has a function known as Insights & Data Analytics built right into the latest version. Analyze Data in Excel helps you gain insights into your data through high-level visual summaries, trends, and patterns. Through Excel you can select any body of data and get Excel's AI to analyse it and present back with Rankings, Trends, Outliers or Majorities. Learn more about Analyze Data from here.
2. Google Gmail
I love using Gmail particularly because it uses AI to predict what to write next using its Smart Compose feature. This feature auto-completes words as you type, predicting in real-time what you want to say with a high degree of accuracy … and no AI did not write this sentence. Learn more about SmartCompose from here.
3. Craiyon (formerly DALL-E Mini)
Craiyon is an image generation engine that uses AI to present an interface that will convert your descriptions into images. It's a cool tool that allows you to quickly represent particular concepts or ideas that are completely original and artificially created. Give Craiyon a whirl at https://www.craiyon.com/
4. ImunifyAV & CPanel on our Website Hosting Servers
Our servers which host well over 100 of our clients' websites are using Machine Learning to scan and stay in front of Web-based virus exploits world wide.
ImunifyAV does this by harvesting data from protected machines which share back to a central platform – one that leverages Machine Learning to identify trends and auto-build detection signatures so it can compare and contrast infected websites, files, etc with secure websites, providing faster alerts when incidents occur.
As threats evolve and try to hide in RAM rather than on SSD, and use other complex methods, the systems fighting them must move just as quickly – if not faster. Learn more about ImunifyAV from here.
5. DDoS Protection on our Website Hosting Servers
Our servers are protected by anti-DDoS (Distributed Denial of Service attack) technology which incorporates Machine Learning in how it's able to mitigate an attack in less than 1 second. The Machine Learning is intelligent enough to automatically expand and refine how it detects attacks – learning and adapting based on attack profiles, vectors, etc over time. Every attack teaches the system, aiding tomorrow's security. Learn more about anti-DDoS here.
As you can see we are already using AI which is just a fraction of the tools available on the web … and it's not so scary!
No doubt there are responsibilities and challenges ahead but it's great to see alliances such as CSIRO AI Australia and the UNSW Business AI Lab raising their hands to the challenge.
So what about you … have you considered how you could already be using AI in your business and the efficiencies gained from it?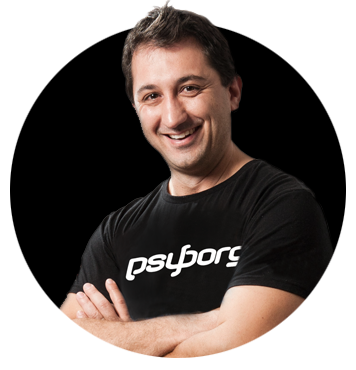 Daniel Borg
Creative Director
psyborg® was founded by Daniel Borg, an Honours Graduate in Design from the University of Newcastle, NSW, Australia. Daniel also has an Associate Diploma in Industrial Engineering and has experience from within the Engineering & Advertising Industries.
Daniel has completed over 2800 design projects consisting of branding, content marketing, digital marketing, illustration, web design, and printed projects since psyborg® was first founded. psyborg® is located in Lake Macquarie, Newcastle but services business Nation wide.
I really do enjoy getting feedback so please let me know your thoughts on this or any of my articles in the comments field or on social media below.
Cheers Daniel