Interview with Holly from Hunter Headline
I recently had the pleasure to be interviewed by Holly Martin from the popular Newcastle business and entrepreneurial blog, Hunter Headline. Holly conducts filmed interviews with Newcastle business leaders and entrepreneurs so naturally I was thrilled to be a guest on her show. In this interview I discuss psyborg's beginnings, my engineering background and the psyborg vision.
Interview Transcript
Tell us about the journey that led you to start your own business.
I have actually been in my own business for over 10 years now but before that I worked in some advertising agencies and web design companies and before that I studied graphic design and engineering. So I had two sort of paths that were fighting against each other. I just felt like I had always wanted to work for myself and lead my own clients so I basically went out on my own about 10 years ago and I've loved it ever since and I've been able to merge some of the engineering disciplines with graphic design.
What was your original mission for your business? And has it changed? 
It hasn't changed but it has evolved. My initial vision and one that is still true today is the fact that I find that most small businesses under estimate their perception in the marketplace so what I try and do is help my clients grow and thrive through design thinking and creativity.
I like to evolve them and help them re-position themselves in the marketplace and the thing that I think has changed is the tools that enables people to do that.
So the Internet has evolved, social media has taken hold, AdWords, all these new tools that are available to clients to be up to date with those kinds of technologies is what has changed. But the fundamentals have stayed the same – good design and good problem solving.
Did you always know you want to be an entrepreneur? 
I think so. I come from a family that has small business associated with them and they have worked hard to create their own path in life and I think I have always felt like I wanted to do this myself.
I find that the career or business path you take in life can actually define you as a person but the thing I like about being an entrepreneur is that you can actually change who you want to be as a person and grow into that. So you take risks and make changes to push in that direction, so yes, I definitely have always wanted to be an entrepreneur.
What do you attribute your success to?
A few things, but one of the things I think is keeping time sheets and that sounds like a very monotonous task but I find I have constantly kept time sheets over the last 10 years in business and I analyse those time sheets and look at the patterns and areas I can improve so it's been a huge thing.
That has pretty much enabled continuous improvement so being able to analyse what I do from day to day and then change that has been a huge thing and also being able to adapt to change is pretty powerful as well so not staying stuck in the one place but moving where the culture or customers are moving, so that is basically what I try to do in business.
What local entrepreneur do you find inspiring?
So I've got two local entrepreneurs that I find inspiring. One is Steph Hinds from Growthwise. I have worked with Steph for over seven years now. First they were my client and I helped them with their branding and their position in the marketplace I suppose and then they actually became my accountant about five years ago and I love how Steph is an accountant but she is also very much a problem solver so she is constantly changing the Newcastle marketplace when it comes to accounting practices.
Another person I look up to is Craig McGregor from Hunter Recruitment Group. He is an excellent people person, I think he has got fantastic communication skills and he is a really good, hard worker and I look up to how he has been running his business.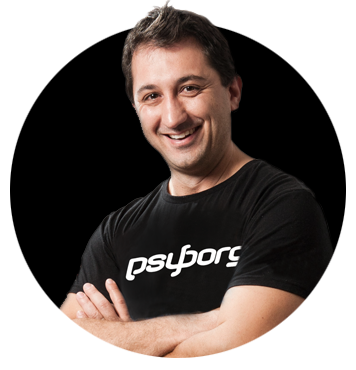 Daniel Borg
Creative Director
psyborg® was founded by Daniel Borg, an Honours Graduate in Design from the University of Newcastle, NSW, Australia. Daniel also has an Associate Diploma in Industrial Engineering and has experience from within the Engineering & Advertising Industries.
Daniel has completed over 2800 design projects consisting of branding, content marketing, digital marketing, illustration, web design, and printed projects since psyborg® was first founded. psyborg® is located in Lake Macquarie, Newcastle but services business Nation wide.
I really do enjoy getting feedback so please let me know your thoughts on this or any of my articles in the comments field or on social media below.
Cheers Daniel