Keep Your Trail Clean
Clients of mine not only hire me for more work but they refer my business to others, it's how I have run my business for over 12 years. The reason for this I believe is because I have a clean trail and because I am completely aware of it.
Keeping a clean trail means keeping a positive reputation for your business. You want the trail to be clean so people feel confident to employ your business. If the trail is messy and obstacles are in the way then this will be reflected in the growth of your business.  
So as you move down the trail of life, in doing business, you need to be aware of the reputation you are leaving behind you, or the cleanliness of your trail. All businesses should aim to have a clean and tidy trail.
Why should you be managing your reputation in business?
Lets pretend that every time a client or customer has a negative experience with your business, symbolically they leave a piece of rubbish on your trail. The more negative experiences, the more rubbish. Unless that experience turns positive then the rubbish will stay there forever, and even worse, with each year that goes by, it grows a little. This causes you to have a trail with obstacles. If someone wants to use your business they must get around this mess to get to you.
This is why you need to manage your reputation. In business the rubbish is a negative experience. Once a customer has a bad experience with a business they won't use the business again. For a business owner this one lost client probably doesn't have an impact on the business. The problem is that just one client has the power to sway others, like their family and friends, from using your business. The reason the rubbish grows each year is because those family and friends may then sway their family and friends from using your business and so on. To make things worse if someone decides to slam your reputation on social media then more people are learning negative things about your business, making your trail a mess!
Now on the flip side lets look at a positive experience. Every time someone has a positive experience with your business the trail widens, vegetation is less overgrown and the path almost shines and lights the way right up to your door. Your path is perceived positively and people have a spring in their step as they walk along it, to your business.
Businesses should not only aim for positive experiences with clients but for enjoyable and memorable ones. This will ensure they have a path that is desirable to walk down. A clean path is that of a business where clients are painting a good picture. They are telling friends and family of their positive experience and this is bringing in new clientele and in turn making the business grow!
Personal Branding
Managing your reputation relates to personal branding as personal branding is defined by the memories, values and impressions that others have of you. Your personal brand has the most impact on your trail because it will directly effect the perception that people have of your business. Read more about personal branding and the importance of it here.
What can I do to ensure a clean trail?
A clean trail can be achieved by ensuring customers have a positive experience with your business and brand. There are different ways you can ensure that this happens.
I find one of the best methods to ensure my clients are happy with me and the work I am producing is by being approachable and allowing them to have constant input or by creating a culture of open communication. Customer feedback along the project process helps to keep your trail clean as it engages the customer in the design process. For me this is a constant process not just a one off feedback form but in the constant meetings, phone calls, emails and even social media posts used in the consultative process. You must make sure throughout the working relationship that they are happy with what is being produced. Not all clients are as straight forward as others or know exactly what they want and these clients need to be given opportunities to voice their opinions throughout the process. Being aware and acknowledging this will ensure that they are happy with the end product.
I also give out customer feedback forms at the end of the design process to help me manage my brand. If a client comes back with a negative comment or scores me at a lower then desirable place then I work to rectify this. I do what I can to make their experience a positive one, as I don't want a messy trail.
Exceeding customer expectations
A way to ensure your trail is the best it can be is to not only meet the expectations of clients but go above that. I aim to exceed my customers expectation to create a trail not only clean and obstacle free, but one that has a working travelator that allows customers to be brought right to my door! Read more about how you can exceed customer expectations here.
The flip side of this is also setting & defining appropriate customer expectations at the start of the customer journey. This is done by setting your brand up appropriately and ensuring that this brand is further reflected in your culture. These values are then projected into your customer on boarding process so that they clearly understand what is expected of them and of your service at the outset.
To Sum Up
Keeping your trail clean is a way to ensure you are accountable and credible. It fuels word of mouth referrals and repeat business. Do the best job, make sure your customers are happy and exceed expectations and your trail will be full of clients waiting to get though to your door!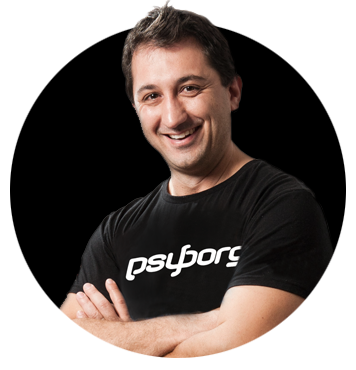 Daniel Borg
Creative Director
psyborg® was founded by Daniel Borg, an Honours Graduate in Design from the University of Newcastle, NSW, Australia. Daniel also has an Associate Diploma in Industrial Engineering and has experience from within the Engineering & Advertising Industries.
Daniel has completed over 2800 design projects consisting of branding, content marketing, digital marketing, illustration, web design, and printed projects since psyborg® was first founded. psyborg® is located in Lake Macquarie, Newcastle but services business Nation wide.
I really do enjoy getting feedback so please let me know your thoughts on this or any of my articles in the comments field or on social media below.
Cheers Daniel