Exceeding Customer Expectations
Customers expect, quite rightfully, a certain quality of service from businesses. As consumers I'm sure we've all seen a range of qualities from customer services. As a result I am sure we have companies or businesses we will continue to use and those we may steer well clear of.
Upholding a high level of customer service is vital for a successful business, particular small businesses who depend on return customers and word of mouth.
A strong Brand Value
I have talked about branding in many of my blogs including 'Your Logo Is Not Your Brand'. A brand being the memories and emotions that your product or service gives a customer. Exceeding customer expectation is good for your brand. If your company is known to go above and beyond for your clients then you will get more clients. If you want to remain competitive I see 'Exceeding Customer Expectations' as a strong brand value.
I know someone who works at a large supermarket chain. They told me how this supermarket chain had changed a policy and it's staff were now expected to go to the next level to help customers. I tested it out and it worked. What they were told was that staff were no longer allowed to direct customers to a product, i.e. "You will find it half way down isle 6", they were now expected to take the customer to the product. Talk about exceeding expectations. When I tried it out the young lad even picked the product off the shelf and handed it to me. No longer was I searching up, down, left, right for this product. It was handed to me. They had to teach staff to do this and cement that it was ok to leave the shelf they were packing to tend to a customers needs first. What a strong and beneficial brand value to uphold.
It is a fairly simple concept but could be put on the back burner in hectic or stressful times. It is also not the easiest thing to juggle many customers or clients at once and when you are crazy busy, being patient and polite can, at times, be difficult. The best thing you can do is try your best and treat every customer/client as though they contribute to your success, because they do.
Why should you exceed expectations?
Exceeding expectations cements a strong relationship between the client/customer and a business. These strong relationships will not only build return business, but also good recommendations through word of mouth, testimonials and reviews. All amounting in more business for your business!
Doing what is expected for a customer or client is all well and good but go above that and the benefits will begin to show. Take this personal experience that Amy, my personal assistant, recently encountered.
Amy has just moved and is renovating. She needed a skip bin and called and used the same person she has used in the past. She has always found him a little difficult to deal with but he lived around the corner and she felt she should support the local guy. When she got him to collect the skip bin this time around he was quite rude to her children who were keeping their distance but trying to watch the exciting skip pickup.
A few weeks later she needed another bin and decided to try another business who were located a tad further away. Now not only were these people more professional, friendlier and much much easier to deal with, they were also cheaper. Even though they were running late on the drop off (at least they gave a rough time unlike the first guy), when she called to make sure they were still coming the office lady was so kind and polite, she called the driver, she called Amy back and then after he'd dropped the bin she called again to apologise for him being late (due to heavy traffic) and make sure it had been dropped. On top of that Amy said the driver had this same kind and friendly way about him spending time with them working out the best drop point. Amy spoke so highly of this skip bin business she claims she will only use them in the future. They must have left an impression because when I asked her to recall an experience where her expectation of customer service were exceeded she immediately told me this one.
So the company that exceeded her expectation will continue to get business from her.
Word of mouth, a strong advertising tool
So much of my work comes from word of mouth. Never underestimate this powerful selling tool. You have no idea what missed opportunities could come from the way you treat just one customer.
If you take the above skip bin scenario, the company that exceeded expectations will get more business from the way they acted. Even though they were running late they handled the situation so well it had no negative impact on that businesses brand. Next time I do some renovating I will get that number from Amy. Next time a family member or friend of Amy's is doing some renovation I'm sure that recommendation will be passed along. If that same level of customer satisfaction is maintained then this business will go far.
The skip bin man who was rude may have not only missed out on Amy's business, he may have missed out on her mums business, her mums friends business, her mums friends Aunties business… the list is endless. Don't underestimate the power of failing at one little job because so much more could be missed.
How to exceed expectations
You need to deeply understand the customers problem and then go beyond to solve it.
Personally I use online questionnaires, project completion surveys and client workshops to help me understand my clients expectations and to evaluate how the client felt about my business and work once it is completed. I take all these aspects very seriously as I need to understand how to fulfill my clients needs.
Once I have the brief or overview I endeavour to complete work in a timely manner as discussed with the client, I am polite and return all calls, I work hard to give them the best possible outcome. This service shows in the amount of return clients I get, the amount of new clients who come from old clients recommendations, the outstanding testimonials people leave me and the project completion surveys and comments.
In essence, exceeding expectations is done by understanding your customers journey with your business and reverse engineering all of the pain points to see how these can be improved to make your customers journey much easier, more satisfying and best of all more exciting.
To Sum Up
Meeting customer expectations is a must do, exceeding those expectations is up to you. But trust me when I say the benefits of doing the later are incredible.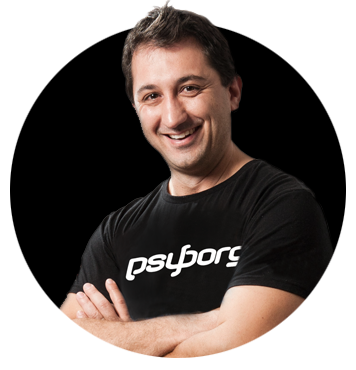 Daniel Borg
Creative Director
psyborg® was founded by Daniel Borg, an Honours Graduate in Design from the University of Newcastle, NSW, Australia. Daniel also has an Associate Diploma in Industrial Engineering and has experience from within the Engineering & Advertising Industries.
Daniel has completed over 2800 design projects consisting of branding, content marketing, digital marketing, illustration, web design, and printed projects since psyborg® was first founded. psyborg® is located in Lake Macquarie, Newcastle but services business Nation wide.
I really do enjoy getting feedback so please let me know your thoughts on this or any of my articles in the comments field or on social media below.
Cheers Daniel