Do you know who your client avatar is?
It goes without saying that if you are selling a product or a service you need to know who you are selling to. This is your client avatar.
Businesses will be more effective if they can determine who their client avatar is so they can directly aim marketing and products toward that person, their ideal client, which if done right can have clients and customers knocking on your door.
Without a client avatar your marketing could be generic and ineffective. Having a website developed with no client avatar can result in no purpose or clear message that may not help business.
Imagine if a high end restaurant looking at mainly servicing high end business, corporate lunch-ins used pink cartoon character to advertise, I think mothers with young children may show up thinking it was a new play centre cafe. If this restaurant builds a client avatar based around their ideal customer, they can then create their marketing or ad campaign to that customer, and the outcome will be well worth the effort put in to build their avatar. This may sound far fetched but it is more important to know who your audience and target that audience then simply creating a piece of communication or you may end up with clients or customers you do not want, or worse, none at all.
When creating your client avatar you need to consider a majority of aspects which will be different depending on what you are selling. For instance some businesses will aim towards one sex, i.e. woman's makeup, others will aim to both men and woman i.e. pest control. Some avatars will need to be more detailed than others depending on how broad or limited the focus group is and what product or service you are selling.
Before you define your client avatar I recommend defining your own business by looking at how you want to be perceived and articulating your culture. This is an important step before defining your avatar as these aspects of your business will help shape who you are and therefore who you want to sell your product or service to.
The ideas in this article can also feedback on itself, as you define your client avatar you may choose to reverse engineer your culture and perception to suit. The point is you want to document the perception, culture and client avatar so you have a clear perspective of what you and your team can achieve.
Perception
To begin with you need to determine how you want to be perceived!
So what do you want people to think about your business? Fun, quirky, adaptable, high-end? Sophisticated, high tech, unique? Quick, affordable, straight forward or conservative?
Some of the things on my list include; slick, clean & fast, lean & agile, and unique just to state a few. When a client looks at my business this is what I want them to see.
Culture
Once you have defined how you want to be perceived you then need to define your culture.
Defining your business culture is deciding on what you stand for, what are your beliefs. It goes more deeply than just how you want to be viewed by clients & is more focussed on what your organisation is all about. Many businesses determine this when hiring more staff, they need to find people who will fit in with their culture and have the same beliefs and values as the company.
Some of the words on my list to define the psyborg® culture are; lean, functional, creative, aspirational, always adapting and driven, just to name a few.
Your ideal client avatar!
Now it is time to develop your avatar. Start with the easiest things, and remember not all of the aspects of an avatar will be important for different businesses.
Demographics
You need to look at how your ideal client is positioned demographically. So the age group, sex, race, economic status, level of education, income level, employment level, anything that has a straight forward answer that is important for your clients or customers.
Values and Attitudes
Once you have determined the demographics that are important for your client you can look more closer at the person they are, their values and attitudes.
Just like if you were looking at hiring someone then you'd want them to have the same culture as you, clients also want someone who will fit with their ideals, which is good because you want clients that fit with your culture too. So usually this step is a matter of looking at how you want to be perceived and your culture and determining what aspects from this you want your clients to posses, and then what aspects you want to add for the clients values and attitudes.
For example as a designer I have a certain style, my work is clean and emotive and it is depicted in the graphics I create. Clients would usually look at my work, discuss ideas with me, and if we are on the same page then they will hire me to create their visual communications. I also look for certain values and attitudes in my clients, and if we simply can't work well together then I know the things we create will not make either party happy and we end up going different ways.
Some of the aspects my client avatar have are; savvy, approachable, organised and 'ok with change'.
Once you have built your client avatar
Once you have defined who you are aiming your business at you can keep this in mind in whatever you do. It will help determine where you advertise, when you advertise, what types of advertising to use to reach your ideal customer, what vocabulary to use, what's the best method for client interaction and much more.
If you are going to set out on a content marketing strategy, a client avatar is also super helpful here as this will help to guide what kind of content you will create.
In another blog article 'Psychology of Advertising' I touched on basing your advertising to your avatar and used the below example, the advertisement for Myer compared to the advertisement for Kmart.
As you can see the avatar for these two companies both selling similar goods developed by different brands would be very different. Myer is aiming at an avatar who is not too young, on the higher economic status, probably a good education, working and has values of quality products, keeping yourself looking good, sophistication etc. The ad logo is entitled 'Find Wonderful', it almost seems like it is marketing towards people who are looking for a pampering type of effect when shopping.
Compare that to Kmart's Avatar who would be of any age group, lower income, employed or unemployed, trends rather than designer label, the values of the client would be bargain products, reasonable prices, quantity rather than quality etc. The ad slogan is titled 'Irresistible Prices', so it really is targeting a lower socio economic group.
In Summary
So to sum up, first look at your own business, how you want to be perceived and what is your culture, once you have done that you will be able to create an avatar who will help your brand, product & business grow to be the best it can be.
You could also decide to create a poster that could be hung in your office which will continuously remind you and your team of who your client avatar is. That way you can focus on creating interesting and inspiring communications targeted towards your ideal client which should inevitably have them coming to you, and isn't that what we all want in business.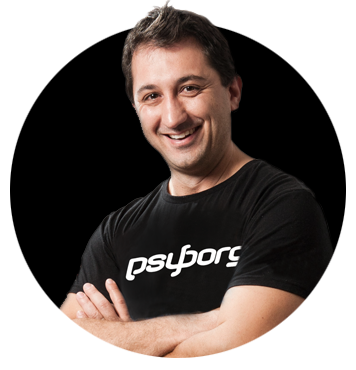 Daniel Borg
Creative Director
psyborg® was founded by Daniel Borg, an Honours Graduate in Design from the University of Newcastle, NSW, Australia. Daniel also has an Associate Diploma in Industrial Engineering and has experience from within the Engineering & Advertising Industries.
Daniel has completed over 2800 design projects consisting of branding, content marketing, digital marketing, illustration, web design, and printed projects since psyborg® was first founded. psyborg® is located in Lake Macquarie, Newcastle but services business Nation wide.
I really do enjoy getting feedback so please let me know your thoughts on this or any of my articles in the comments field or on social media below.
Cheers Daniel