Why should you consider trademarking your business name or logo?
It is a good idea to trademark your business name or logo because it ensures the name and logo design is yours and no-one else can legally take ownership or use it. While you are not legally obliged to register a trademark like you are a business name, it is still important because a logo and business name is what enables your business to stand out from the competition.
Essentially it is the trademark of your business and this trademark is the way your clients recognise your business and the product or service that you provide. Trademarking the name and logo that defines your business is essential in building a brand because it ensures the trade mark remains yours and will be unique in your industry. 
What is the difference between the ™ and ® symbol?
The ™ symbol is used for trademarks that are unregistered. Anyone can put one of these against a name or logo and hope it is not used. This symbol does not guarantee that it is protected from trademark laws. It just warns outsiders that you classify it as your trademark. Businesses often use it while they are waiting for their trademark to be registered.
The ® symbol is used on a trademark when it is registered. It is telling people that this trademark is owned by someone and it legally stops competitors from using it for their own gain. This symbol can only be used once a trademark is registered.
Once a trademark is registered it is up to the owner whether to place the ® after their trademark. It is not a requirement and remains safe whether the ® is used or not.
The 3 Essentials to Trademarking your Brand
Essential 1.
Should I register my brand name, logo shape or both?
Both. It is a common misconception that once you register a business and receive an ABN (Australian Business Number) the name is legally yours. This is not the case. To ensure that your business name and logo are safe from others trading with it you need to get it registered as a trademark.
Registering a trademark gives you exclusive right to use, licence and sell your asset and it is protected under the Trade Marks Act 1995.
A registration lasts 10 years before you need to re-register it. You can search business names and logos here to see whether your name is unique and not registered by someone else.
Essential 2.


What is a class and which ones should I go with?
A class is required to register a trademark. There are 45 classes of goods and services and you need to choose what class/classes your trademark belongs to when registering it. You should list all classes that your trademark belongs to. IP Australia suggests asking these questions when deciding your class.
Where do you derive your business income?
What is the nature of your business?
What are you known for by your customers/clients?

What products or services does your business provide?
IP Australia also has Choose Wise Videos which may help with the decision process. To view a list of the 45 available classes click here.
Essential 3.


Do I need a lawyer or should I go it alone?
This is completely up to you. A lawyer is not a requirement when applying for a trademark. Personally, with things like this I tend to prefer using a lawyer for my own piece of mind. It is also a job that takes some time and I would prefer to pay someone else for their time to do such a tedious job. It is certainly worth doing and getting a lawyer involved ensuring it is done right and any hiccups along the way, they can deal with!
Here is a colleague I have collaborated with in the past should you wish to call for a chat about Trademarks …
Ben Read – Lawyer
Industry Legal
http://www.industrylegal.com.au
M. 0438 699 095
To Sum Up
Your biggest asset in your business is your name and/or logo. It contributes to branding and it is the way you are known and remembered. It is what people use to pass on business details, it is how people find you online and it is an essential for all businesses. Trademarking your business name and it's logo ensures it is safe from being used by others and well worth the time to do. And if you run your business right you can build equity into that name and logo which could become a saleable asset should you wish to sell it.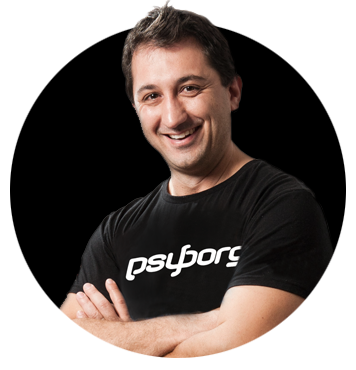 Daniel Borg
Creative Director
psyborg® was founded by Daniel Borg, an Honours Graduate in Design from the University of Newcastle, NSW, Australia. Daniel also has an Associate Diploma in Industrial Engineering and has experience from within the Engineering & Advertising Industries.
Daniel has completed over 2800 design projects consisting of branding, content marketing, digital marketing, illustration, web design, and printed projects since psyborg® was first founded. psyborg® is located in Lake Macquarie, Newcastle but services business Nation wide.
I really do enjoy getting feedback so please let me know your thoughts on this or any of my articles in the comments field or on social media below.
Cheers Daniel