Graphic Design in Newcastle and psyborg®
At psyborg® the majority of what we do is based around graphic design. Whilst graphic design is not all we do it is a major part of our role as brand developers. We have been doing this in the Newcastle region for over 11 years.
What does a Graphic Designer do?
"A graphic designer is a professional within the graphic design and graphic arts industry who assembles together images, typography, or motion graphics to create a piece of design." Source- Wikipedia
So a graphic designer is a communicator, we communicate to an audience (the consumer) through images that are designed to inform, captivate and inspire a response.
Where did p
syborg®
 come from?
Growing up in the Newcastle region, I lived in a small sea side community. I loved doodling during high school and was often drawing cartoons during English lessons instead of the prescribed work. I loved creating from an early age with all media. Once completing year 12 I decided to continue my education and signed up to industrial engineering which turned out to be a blessing in disguise. Read more about the best mistake I ever made here. I'm not one to give up and I stuck it out to achieve my Associate Diploma in Industrial Engineering.
After completing my associate diploma I went to University and began a degree in Mechanical Engineering, only to change over to Graphic Design 3 years later. After 4 years I was honoured to received my Honours Graduate in Graphic Design from the University of Newcastle.
Fresh out of Newcastle University
I have always loved technology and that mixed with my love for design I had truly found my calling .
I was able to put my new degree and graphic design abilities to use at TiC Technologies. The experience was invaluable and I learnt a lot here staying on at the company for 2 or so years.
I was then lucky enough to move on into a Senior Graphic Design position at Out of the Square Media. Again another life altering experience that helped me to perfect my graphic design abilities while being able to stay close to my family and friends in Newcastle. I stayed at the company for 3 years.
Small business start up!
While I enjoyed what I did I felt I wanted to branch out and have a go at a business of my own and with the support I needed from those closest to me I took the plunge and launched psyborg®. What an adventure it has been!
I have worked hard and created a strong brand I am proud of. I have grown as a graphic designer and as a person and in turn my business has grown. I am blown away by what I have achieved and how enjoyable the entire exercise has been. My business turned 10 last year and I look forward to seeing where the next 10 years takes me.
I love what I do and where I am in life. I hope to continue my graphic design business in Newcastle and have a vision of where I want it to go.
So what does psyborg® do?
psyborg® is a branding, graphic design, web design and interactive media studio based in Newcastle focused on creative and useable communication. We largely focus on branding because I am a believer that a strong brand can have a huge impact on the success of a business.
I work hard at creating graphic design around a brand and pride myself on the ability to tap into a brands values to create strong and long lasting graphics. 
At psyborg® we are part mind, part machine. When we refer to part mind we are talking about the conceptual thinking that goes into the creativity we use to discover your brand. When we refer to part machine we are talking about the software and systems we use to implement your brand.
We bring you part mind, part machine to create the highest quality work that will communicate to and get a response from your customers! We're always on the hunt for interesting projects with people who are passionate about their business and brand.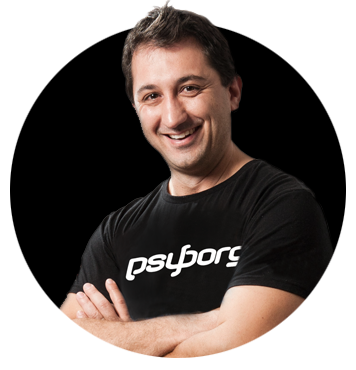 Daniel Borg
Creative Director
psyborg® was founded by Daniel Borg, an Honours Graduate in Design from the University of Newcastle, NSW, Australia. Daniel also has an Associate Diploma in Industrial Engineering and has experience from within the Engineering & Advertising Industries.
Daniel has completed over 2800 design projects consisting of branding, content marketing, digital marketing, illustration, web design, and printed projects since psyborg® was first founded. psyborg® is located in Lake Macquarie, Newcastle but services business Nation wide.
I really do enjoy getting feedback so please let me know your thoughts on this or any of my articles in the comments field or on social media below.
Cheers Daniel