What are your Touch Points?
"A touch point can be defined as any way a consumer can interact with a business, whether it be person-to-person, through a website, an app or any form of communication. When consumers come in contact with these touchpoints it gives them the opportunity to compare their prior perceptions of the business and form an opinion."- Wikipedia.
A touch point is any interaction a customer or client has with your business and therefore every touch point must reflect, reinforce, and reiterate your core brand strategy. Taking control of your touch points is the key to building a strong business brand, business culture and personal brand.
If your goal is to improve your business and customer satisfaction then I suggest looking at your touch points. When looking at your touch points and the quality of them you should keep in mind the customer (or your client avatar), and how they view or react to the interaction. Successful business is not just about delivering a superior product or service, but also about the touch points you use to engage your audiences, such as websites, advertising, office space, communication, social media, customer service… and many more.
The good thing about touch points is generally you can control them.
You can pin point touch points and make sure they are inline with your brand and culture. Feedback from clients is a great way to see what is working well, and what could use a makeover.
Below are some touch points categorised into 3 areas, I have brainstormed as many touch points that I can think of, if you notice something I have missed please leave a comment so I can add it to the list.
Business Brand
A brand is the way people feel about a business. A brand can be expressed by the external touch points that customers engage in to get closer to the decision to purchase a product or service and can include;
Mood Board
Telephone Opener
Networking Approach
Signage
Word of Mouth
Websites
Video
TV Commercials
Newsletters
Interviews
Email Signature
Voicemails
Proposals
Employee Uniform
Products
Packaging
Services
Advertising
Billboards
Business Cards
Web Banners
Exhibits
Letterheads
Vehicles
On Hold Message
Reception Interior
Client Meeting Room
Business Card
Animation
Phone Welcome Message
Got another one to go here? Leave a comment, below…
As mentioned above most of these touch points are in the control of business owners or personnel. You can decide on the best logo, website design, letterheads etc. You can choose what posts go on social media, what blog articles to write and how to interact with people. While you can not control people you can train staff and employ people who you feel can live up to the expectations of your company brand.
You do not have control over word of mouth, that is what people say about your products or services, but it should fall into place if everything else is set up well. Obviously human and technical errors do happen but as a touchpoint you can choose how to deal with these situations, how you go about fixing them and how you treat the client/customer involved in the error.
At psyborg® we run brand workshops to help businesses create, update and maintain strong brands. Get in touch if this is something you would like to be involved in.
Strong brand touch points are essential for a strong brand.
Business Culture
Business culture is the foundation behind any brand. To have a successful business and therefore brand you need a good business culture. Internal touch points that employees engage in, which inspire the envisioned culture can include;
Employee Avatar
Mood Board
Style Guide
Office Interior Design
Internal Posters
System Presentations
Intranet Screen
Training
Letterheads
Manuals
Procedures
Internal White-labeled Software
Office Memos
PowerPoint Presentations
Internal Communications
Staff Newsletters
Note Pads
Memo Board
Meeting Rooms
Lollies
Functions, Parties & Events
Uniforms
Employee Awards
Employee Rewards
Employee Gifts
Got another one to go here? Leave a comment, below…
If you can have well thought out and positive touch points behind the scenes in your business then it will help to build a strong business culture and in turn a strong business brand as this will naturally seep into external communications.
Furthermore the interior design of your business can help foster creativity! Read more about that here.
Personal Branding
In this day and age, personal branding has many touch points due to the growing technological world of Social Media. To have a positive personal brand you need to make sure your touch points are inline with your values and what aspects you want people to know about you. External touch points that help build personal brands could include;
Client Avatar
Mood Board
Style Guide
LinkedIn Profile
Characature
Content Marketing
Elevator Pitch
Social Media Posts (all aspects; photos, shared content, memes, comments etc)
Profile Portrait
Cover Photos
Resume
Letterhead
Business Card
Email Signature
Resume
Clothing
Personal Hygiene
Got another one to go here? Leave a comment, below…
The impression you give people about yourself can make or break a business or the opportunities that may come your way. I have known people who have missed out on an interview due to a potential employer looking at their facebook profile. Personal brand matters and you can most certainly control most of these touch points.
If you are having trouble determining what to include in your social media posts, this article may help.
To Sum Up
Touch points are the aspects of a business that attract customers. People form opinions based on what they see, hear and feel. You want customers or clients to walk into an office space and feel comfortable, to read an email response and feel valued, to see a profile portrait and not be scared off, to be greeted on the phone by someone who wants to talk to them and not be left feeling like a nuisance. What we put out there as a professional should bring in clients and consumers, not deter them from using our business. This should be kept in mind while creating any of the touch points listed above which will in turn help you build a stronger brand.
Does your business need a Touch Point audit?
As designers we love to design each and every touch point to be consistent with your brand and vision.
To assist we have developed a touch point audit spreadsheet that you can use to
review your brand, culture and personal brand.
Tell us a little about your touch points in the comment field below and we'll send you my free touch point audit spreadsheet so you get get control over your brand!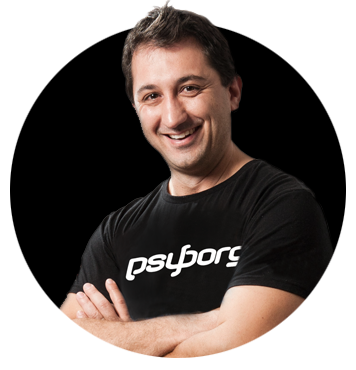 Daniel Borg
Creative Director
psyborg® was founded by Daniel Borg, an Honours Graduate in Design from the University of Newcastle, NSW, Australia. Daniel also has an Associate Diploma in Industrial Engineering and has experience from within the Engineering & Advertising Industries.
Daniel has completed over 2800 design projects consisting of branding, content marketing, digital marketing, illustration, web design, and printed projects since psyborg® was first founded. psyborg® is located in Lake Macquarie, Newcastle but services business Nation wide.
I really do enjoy getting feedback so please let me know your thoughts on this or any of my articles in the comments field or on social media below.
Cheers Daniel