Our Logo Hand Over Process
At psyborg® we can create the perfect logo for your business! When we finish a clients logo we typically supply the logo in 4 logo file types, an option for a logo style guide and copyright ownership of the logo. You can also register a trademark for the logo we design and I will explain how to do that in this article.
Logo File Types
Your logo will be used for everything to do with your business. From letterheads to vehicle signage, online and in print. Different file types are suitable for different applications and this is why you will need your file in more than one format. When I hand over your logo I supply it in 4 file types; EPS, JPEG, PNG and PDF.
EPS
EPS stands for Encapsulated PostScript. An EPS file can contain text as well as graphics.
In essence an EPS is a Vector File, it is scalable without the loss of quality which means the size can be changed and the image remains perfect. EPS is the universal logo format.
The EPS format can be used in print, signage and other industrial applications such as embroidery, laser cutting etc. It is considered the best choice of graphics format for high resolution printing and due to its ability to be scaled without effecting the quality of the graphic it is best used for large signs and banners where the other formats could cause the loss of image quality.
JPEG/JPG
JPEG sometimes written as JPG is short for Joint Photographic Experts Group. JPEG is used for photo images which may need to be smaller files. By smaller I mean they may need to take up less memory online. This is beneficial for web sites or email. Jpeg is widely used on the Internet to display photographs due to the speed at which it can be rendered on a web page.
JPEG can be compressed however pixel quality will degrade each time the format is saved. Another great thing about JPEG is that it can be saved at high resolution, say 300dpi, so it can be a large resolution for print use but a small file size for transmission.
PNG
PNG stands for Portable Network Graphics. This format is similar to a JPEG file however PNG supports transparency whereas JPEG does not.
While JPEG is good for storing photographs at a compressed size PNG is useful for storing line drawings, text, and iconic graphics at a smaller size. Both JPEG and PNG are ideal for use on the internet and may depend on the graphic that has been produced as to which format is better. This is why I supply both as it also depends on how you want to use it.
PDF
PDF or Portable Document Format is a file format used to present and exchange documents reliably, independent of software, hardware, or operating system. The PDF format has become a standard for document transfer between different computer platforms. A PDF file retains formatting for the file being transmitted and is becoming the standard for providing high resolution files to printers.
PDF is ideal for presentation/communication purposes as anyone can see and access it where as typically anyone can not see what an EPS file looks like as it requires industry specific software. 
Logo Style Guide
We can also supply a logo style guide. Logo style guides are a great investment for any business and have many uses and benefits.
What is a Logo Style Guide?
A logo style guide is essentially a document that details your logo and how it looks in various media. It describes, defines and presents examples of what your logo looks like using visual representation as a quick reference guide to ensure consistency.
Why would you want one?
The reason a logo style guide is beneficial is because it is a quick reference to how your logo looks using all media. It enables you to be consistent when using your logo no matter where or how you are using it. Style guides can be passed on to employees or third party affiliates and suppliers so everyone in the business knows when and how to use the business logo. They help with overall branding as they maintain strong visual presence across all areas of communication with customer/clients ensuring all of your touch points are consistant.
What is included in a typical Logo Style Guide?
Style guides vary in length depending on businesses and the needs/uses of a logo.
Generally they have the following items;
Various uses of the logo. Full colour, Reversed, On Black etc including visuals

Proportional, spacial and composition rules of a logo

Colour Values and Colour Rules

Complimentary Fonts and Typography to be used

Do's and Don'ts for the logo
If you have any other questions about Logo Style Guides contact us!
Copyright
Copyright is a legal right created by the law of a country that grants the creator of an original work exclusive rights for its use and distribution. Source- Wikipedia 
Pretty much no matter what it is, if you created it, you own it and it's the Australian copyright law itself that assures that ownership. More about copyright can be found here. 
Who owns copyright of the new logo?
I hand over the ownership of the copyright once payment is finalised, so the business or individual paying for the work will be the owner of the copyright. It's all yours!
Trademarks
A trademark is a recognisable sign, design, or expression which identifies products or services of a particular source from those of others. Source- Wikipedia
You have the option of registering a trademark of your new logo or business name as another way to protect it from being reproduced by others. Only registered trade marks can carry the ® symbol and once it is registered this makes it public knowledge to respect your trade mark and not copy it. For example psyborg® is a registered trademark. 
How do I get a trademark?
You can hire a Trademark Attorney or do it your self through IP Australia. IP Australia has all the information you need about trademarks and the process involved in getting one. 
Too learn more about registering a Trademark read more here.
What now?
Once you have your logo you need to remember that Consistency is King! Everything you do for your business needs to include that logo! While a logo is not your brand it is the thing that people see to remember your brand, or the symbol that represents your brand.
Using that logo at every touchpoint is mandatory! A touchpoint is any interaction a customer or client has with your business so use that logo to your advantage to reflect, reinforce, and reiterate your core brand. Use it on uniforms, stationery, letterheads, signage, emails … everything!
We love helping businesses to create logo's and we also run brand workshops to help businesses get started.
Contact us if you need a creative designer! We also do Graphic Design and Web Design and although we are located in the Newcastle and Lake Macquarie region we can help you no matter where you are located as our work can be done remotely due to the efficient systems we have in place.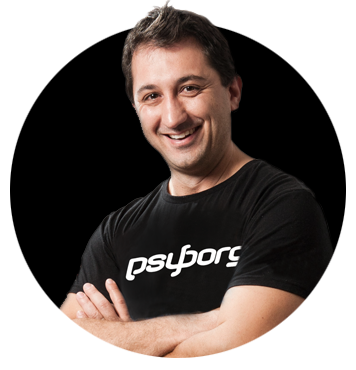 Daniel Borg
Creative Director
psyborg® was founded by Daniel Borg, an Honours Graduate in Design from the University of Newcastle, NSW, Australia. Daniel also has an Associate Diploma in Industrial Engineering and has experience from within the Engineering & Advertising Industries.
Daniel has completed over 2800 design projects consisting of branding, content marketing, digital marketing, illustration, web design, and printed projects since psyborg® was first founded. psyborg® is located in Lake Macquarie, Newcastle but services business Nation wide.
I really do enjoy getting feedback so please let me know your thoughts on this or any of my articles in the comments field or on social media below.
Cheers Daniel