Lake Macquarie Web Design
psyborg® has been designing websites for Lake Macquarie and Newcastle Clients for over 10 years. We go beyond just the basic design of a website and really tap into business culture and branding to help our clients success in business.
We work closely with business owners and employees to come up with results that everyone is happy with, just like what we created for Lake Macquarie Dental Practice.
What we do in web design
From HTML, CSS to WordPress, we have it covered. We design and produce websites to cater for the needs of a diverse range of businesses. Evan Graham is another Lake Macquarie brand and website we helped create.
HTML
HTML stands for Hypertext Markup Language, this is the most widely used language on the Web to develop web pages. HTML is what we use to achieve the websites structure & layout, font, colour & graphic elements on the World Wide Web. Have a look at how these elements are used on Best Bin Hire's website. 
CSS
CSS stands for Cascading Style Sheets. It is a style sheet language that is used for the presentation of a document. It is most often used to set the visual style of a webpage styling the HTML elements, it is what we use in to create unique and eye-catching websites. Check out the work we did on ScooterHub.
WordPress
WordPress is an open source content management system. It is the behind the scenes, the backend software we use to create websites. I use WordPress for most of the sites I create.
I find WordPress to be the most convenient and straight forward content management system. This is important to me as once I create a new website businesses are able to continue to edit the sites content using WordPress. So they are able to update content, add content and edit content. I find that clients find WordPress fairly easy to navigate and if they have a question then I am always available to help and there are many answers easily found online as WordPress is the platform of choice Content Management Systems and therefore there is plenty of help available. I also supply my clients with training when the website is completed and I provide video tutorials & help guides in the clients' WordPress dashboard. Check out Rafferty's Resort website created at psyborg® using WordPress.
Bringing branding and graphic design expertise to the web design process
At psyborg® we not only understand the technical side of web design but also the importance behind it. Many people choose a business based on first impressions, and more often than not these first impressions come from visiting a website. Potential clients or customers may choose to, or choose not to use a business based on the information and presentation found on a website. This is why a well designed, user friendly website is integral to businesses. Check out what we did for another Lake Macquarie business The Finance Shed.
At psyborg® we believe a strong brand can have a huge impact on the success of a business. We have branding workshops to help with this. When designing websites we use our graphic design expertise along with a strong focus on the business brand to create a web page that will have a long lasting impression. When branding it is important to be consistent, you should maintain a certain style and look and at psyborg® we can do this. Whether you already have logo's and signage that we need to incorporate into a new website or use to update an exisiting site we can do this. We can also collaborate with you to build a brand from scratch or update an existing brand that is a bit tired.
Social Marketing, Content Marketing and SEO
Social marketing, Content Marketing and SEO are extremely important tools that many businesses don't know about, we do and we can integrate these systems into your website. These are the new keystones of modern marketing.
Social Marketing
In this day in age if you are not on some kind of social media you almost seem alien to the majority. Social media has become a very strong tool for businesses to use to grab the attention of more clients and customers. We can help link and create content for you to get you started with social marketing. Read more about my take on social marketing here.
Content Marketing
Content marketing refers to a type of marketing that involves the creation and sharing of online material like videos, blogs, and social media posts. It is not about explicitly promoting a brand but is intended to stimulate interest in its products or services via authentic education and communication of your brand, product and service. It is a great way to get your name out there, get people talking and boost your SEO.
SEO
SEO stands for search engine optimisation, this is the process of affecting the visibility of a website or a web page in a web search engine's unpaid results. So in google if you want to be on the first page search result, SEO is how you get there.
What else do we do?
We host and manage on all of the sites we build on our dedicated server. This is beneficial for speed, localised SEO, security and ease of software updates. We are always out to create the best website for your business and always keen to take on a new challenge. Any questions please contact us. 
We do not just do websites. psyborg® is a branding, graphic design, web design and interactive media studio focused on creative and useable communication. Whether you want to create a brochure, add some signage to a vehicle or do an entire brand overhaul we can help.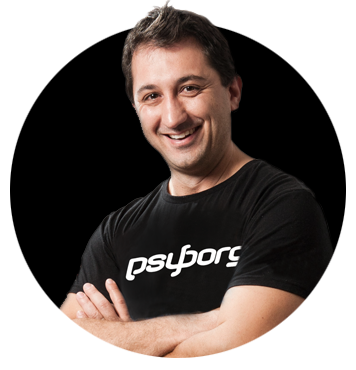 Daniel Borg
Creative Director
psyborg® was founded by Daniel Borg, an Honours Graduate in Design from the University of Newcastle, NSW, Australia. Daniel also has an Associate Diploma in Industrial Engineering and has experience from within the Engineering & Advertising Industries.
Daniel has completed over 2800 design projects consisting of branding, content marketing, digital marketing, illustration, web design, and printed projects since psyborg® was first founded. psyborg® is located in Lake Macquarie, Newcastle but services business Nation wide.
I really do enjoy getting feedback so please let me know your thoughts on this or any of my articles in the comments field or on social media below.
Cheers Daniel